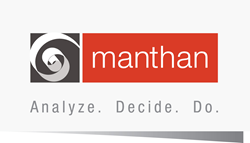 Businesses are now reaping much greater ROI with no added infrastructure cost
Santa Clara, CA (PRWEB) January 07, 2016
Manthan, a leader in Big Data and analytics for consumer connect businesses has re-engineered its Customer Marketing solution for Hadoop, adding data management, auto-scale and real time computing capabilities to enhance its strong analytical prowess. The solution now helps businesses realise the quickest return on investment (ROI) on their existing Hadoop infrastructure, by offering context aware customer analytics to marketers across industries.
"Hadoop was till now seen as an IT process investment. Our out of the box approach to align marketing contexts with rich computing capabilities has given it a complete business orientation. Businesses are now reaping much greater ROI with no added infrastructure cost", said Anand Sri Ganesh, Chief Product Officer, Manthan.
As customer paths to purchase change over time, marketers are challenged to stay in tune with changing preferences, and they look towards mountains of structured and unstructured data to decipher ways to influence shopping behaviour. Manthan's Customer360 deployed on Hadoop helps marketers achieve a single view of data by harmonizing social, click-stream, transaction, loyalty and other historical data into a transformed data lake, ready for analytics. Customer360's packaged analytical algorithms are optimized to leverage Apache Spark, which enables rapid processing of large datasets, spanning multiple years, and data sources to accurately analyze and predict outcomes.
Further, Customer360 uses the added advantage of Apache Kafka to listen to customer events across multiple touch points. These insights, which are published on real-time dashboards, help marketers to respond quickly to emerging opportunities.
Manthan has forged strong enterprise partnerships with leading Hadoop and Cloud service providers like Amazon Web Services, Hortonworks, Atliscale and Qubole. Manthan's solutions are certified on these technology platforms, thereby enabling its customers with Industry leading technology innovations to realise rapid benefits from their Big Data and Analytics strategies.
Manthan will showcase its award winning solutions at the National Retail Federation (NRF) Convention & Expo that will be held January 17-20, 2016 at New York City's Jacob K. Javits Convention Center. Meet Manthan's Analytics experts at booth #3751 at the NRF Convention & Expo.
------------------------
About Manthan :
Manthan is the Chief Analytics Officer for consumer industries worldwide. Manthan's portfolio of analytics-enabled business applications, advanced analytics platforms and solutions are architected to help users across industries walk the complete data-to-result path - analyze, take guided decisions and execute these decisions real-time. Sophisticated, yet intuitive analytical capability coupled with the power of big data, mobility and cloud computing, brings users business-ready applications that provide on-demand access and real-time execution - the only path to profit in a contemporary, on-demand and connected economy. Manthan is one of the most awarded analytics innovators among analysts and customers alike. To see how your business can gain from analytics, visit manthan.com.