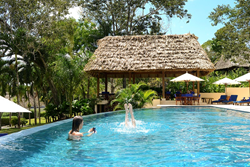 we're looking forward to showing our visitors the very best of Belize during what promises to be an exciting 2016,
San Ignacio, Belize (PRWEB) January 07, 2016
The Lodge at Chaa Creek is predicting another banner year for Belizean eco-tourism while announcing a range of new initiatives, activities and features for 2016, according to the popular eco-resort's owners.
Lucy Fleming, who with her husband Mick founded Chaa Creek as a small family farm along the banks of Belize's Macal River in the late 1970s, said that Belize's tourism industry continues to prove that environmental sustainability, best practices and responsible tourism can coexist with the high degree of service and luxury that today's travellers have come to expect.
"People today are more sensitive to the effect they have on the local environment and community. Belize, as a relatively new tourism destination, was able to develop with the principles of responsible tourism uppermost in mind. It's something that shows, and something that today's travellers are clearly responding to," Ms Fleming said.
"Of course, along with green practices, travellers also expect – and deserve – excellent service, fine dining, a range of enjoyable activities and a good value, high quality experience. Belizean tourism stakeholders have worked at getting that mix right, and each year we're seeing positive results," she added.
Ms Fleming pointed to Belize Tourism Board (BTB) figures showing a steady increase in tourism arrivals for 2015, with predictions for a healthy 2016. With planned infrastructure upgrades announced last year by Belizean Prime Minister Dean Barrow that include a new international airport at Ambergris Caye, combined with the evolution of Belize's food culture, upgrades to Maya temples and archaeological sites and the continual addition of new tours and activities, Belize seems set for another successful year in 2016, Ms Fleming said.
"Now that tourism is Belize's main economic driver, both government and the private sector are focussed on ensuring that Belizean tourism is second to none. From the Caribbean coast to the inland rainforests, we're seeing steady activity on many fronts.
"Here at Chaa Creek, for example, we continued to raise the bar in our kitchens at both Chaa Creek's onsite Mariposa restaurant and our award winning Guava Limb Café in San Ignacio, which was featured in a Travel Channel article and voted "Best Restaurant for 2015" by the Belize Tourism Board. With our own extensive Maya Organic Farm we offer an authentic Farm-to-Table dining experience, and have attracted internationally recognised chefs to mentor our cooks while expanding our menu options.
"We also refreshed and expended offerings at our Gayot's-Guide recommended Hilltop Spa, which had previously won recognition as 'Belize's Leading Spa Resort' at the World Travel Awards.
"Chaa Creek was inducted into Trip Advisor's "Certificate of Excellence Hall of Fame" during 2015, and also achieved Green Globe Gold Membership status for years of continual certification of sustainable practices. Together they show that you can have a high degree of customer satisfaction along with environmentally friendly operations," Ms Fleming said.
Ms Fleming emphasised that Chaa Creek will continue to build on last year's successes throughout 2016.
She said that the addition of two new eco-luxe suites will set a new standard for the introduction of green technology into a pristine rainforest setting, and that the Chaa Creek Cares program, which sees ten per cent of all room revenue going directly into environmental and social programs will continue to expand. Chaa Creek's guests will also enjoy increased air service from international and local airlines, with service from Belize City, Ambergris Caye, Placencia and other destinations now connected to the nearby Maya Flats airstrip, further lessening tourism's environmental footprint while enhancing ease of travel.
"We'll also continue to expand our broad selection of all-inclusive Belize vacation packages. Increasingly, travellers are finding these packages to be an easy and affordable way to have a holiday that seems tailored made for them, whether they're travelling as a family, couple, group or individual. Over the last 30 years we've built an extensive network of colleagues from the Caribbean coast and cayes to the ancient Maya temple cities of inland Guatemala, ensuring guests a carefree, safe and surprisingly affordable way to have the Belize experience they want without having to plan every detail, and without unwelcome credit card blow-outs or surprises when they return home," she said.
Early in 2015 Chaa Creek launched a new website designed to make it easier for travellers to explore the resort online and to help plan their next Belize vacation, Ms Fleming said, adding that the website also lists featured monthly specials along with travel and other useful information.
"We understand that offering a consistent, high quality, enjoyable vacation experience demands continual improvement, listening closely to what our guests are saying and constantly looking out for new opportunities and ideas. We're confident that by paying close attention to those things, Belize will continue to see satisfied guests return while new visitors arrive.
"All things considered, we're very happy with how things went in 2015, and now we're looking forward to showing our visitors the very best of Belize during what promises to be an exciting 2016," Ms Fleming said.
The Lodge at Chaa Creek is a multi award winning eco resort set within a 365-acre private nature reserve along the banks of the Macal River in Belize.
ENDS