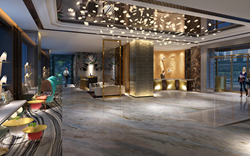 (PRWEB) January 06, 2016
February is going to be a fantastic month this year at Cosmopolitan Hotel Hong Kong with Chinese New Year and Valentine's Day only a few days apart. To celebrate these auspicious and romantic occasions, Cosmopolitan Hong Kong Hotel is pleased to present the "Fantastic February Bed + Breakfast" room promotion, while announcing its brand new lobby to be unveiled on Jan 25, 2016, following the launch of 454 newly renovated rooms and suites.
Not only guests will be spellbound by the new interiors of the hotel upon arrival - from the grand lobby that boasts a contemporary bar to the exquisitely designed guest floors and thematic suites and rooms; they will also be able to indulge in a stream of surprises come with the "Fantastic February Bed + Breakfast" - a meticulously designed festive package aimed to make every stay nothing but sheer enjoyment.
Available for booking from Jan 1 till Feb 29, 2016 for stay period between Feb 1 and 29, this all-inclusive festive package offers an instant 30% discount on select room types, including newly renovated Standard Room, Superior Room, Premier Room, Deluxe Triple Room and Family Quad Room, with no minimum night stay is required. The starting rate for this package is HK$730+ per room per night.
Sweet Surprise By A Team of 'Beyond Thoughtful' Staff & Make A 'Wish' Upon Check-in
Couples who book for this package can rest assured that besides the attractive discount, the hotel will go the extra mile to make their stay a memorable one with pre-arranged surprises from their loved ones with the secret help from the hotel's Valentine's ambassador. These surprises ranging from personalised room decoration, an exclusive welcome by the staff or even a romantic light refreshment in the room - all surprises will be built around a theme provided by guests. This would not be possible without a team of Beyond Thoughtful staff who is already experienced in doing so.
For guests whose stay falls on Chinese New Year will also be granted an exclusive 'wish' upon check-in in celebration of this traditional festival in town during the promotion period. The 'wish' will be either a choice of free breakfast for 2 persons, free room upgrade to Grand Deluxe Course View Room or a free bottle of house wine.
Besides, booking for the "Fantastic February Bed + Breakfast" will also entitle one to the following additional perks:

Free Premium WiFi (up to 200Mbps and 6 devices at a time)
Complimentary use of smart phone with free 3G Internet and personal hotspot for multi-device connectivity, local calls and IDD calls to Australia, Canada, China, Japan, Korea, Malaysia, Singapore, UK and US
Entitlement to 24-hour full stay (flexible check-in time with an entire 24-hour stay)
Free downtown shuttle bus to 15 commercial and shopping locations in Central, Admiralty, Wan Chai, Causeway Bay and Quarry Bay including IFC mega shopping mall, Airport Express Hong Kong Station, Central Habourfront Event Space (Pier No. 9), Hong Kong Convention and Exhibition Centre and more
Terms and conditions:

Both Sweet Surprise and Make-A-Wish are exclusively for bookings via hotel official website http://www.cosmopolitanhotel.com.hk only
Valentine's celebration arrangement will be tailored according to guest's request with 7-day advanced notice required. Additional cost may apply upon special requests.
Free room upgrade is subject to availability for the Chinese New Year 'Wish'
24-hour Full stay is subject to hotel room situation and minimum 72 hours advance notice to hotel is required
About Cosmopolitan Hotel Hong Kong
The award-winning 4-star Cosmopolitan Hotel Hong Kong is situated amid Wan Chai and Causeway Bay on Hong Kong Island giving its guests convenient access to all business, shopping and sightseeing locations. The hotel is a mere 8 minute walk from the subway station / Times Square and a 10 minute drive from the Hong Kong Convention and Exhibition Centre. Cosmopolitan Hotel Hong Kong offers 8 types of rooms and suites ranging up to 48 sq. m. The signature Deluxe Course View Room offers a breathtaking view of the horse racing grounds and sport field in front of the hotel. Complimentary shuttle bus service is available to 15 destinations via five routes and all rooms are equipped with 200Mbps ultra high speed Wi-Fi Internet. Other facilities include the He Jiang restaurant that serves Huai-yeung cuisine, the 3T Bar, a gym room and various meeting spaces.
Cosmopolitan Hotel Hong Kong has been recognised by Michelin as being the most comfortable hotel for three years consecutively and is also the recipient of Certificate of Excellence for the years 2012 and 2013 by TripAdvisor. The recommendation accredits its outstanding service and soothing environment for global travellers. Cosmopolitan Hotel Hong Kong is owned and managed by Dorsett Hospitality International and is a valuable member of WorldHotels.
About Dorsett Hospitality International
Dorsett Hospitality International, is a spin-off from Far East Consortium Limited. With three brands under its umbrella ….the upscale and midscale Dorsett Hotels & Resorts and d.Collection comprising a range of charismatic boutique hotels; and the value-led Silka Hotels; the group currently owns over 30 hotels in China, Hong Kong, Singapore and Malaysia; including ten more scheduled to open within the next two years in China, Hong Kong, United Kingdom and Malaysia. For more information on Dorsett Hospitality International, visit: http://www.dorsett.com
Media enquiry:
Jowie Wong
Senior Communications Manager
+852 3552 1810
jowiewong(at)cosmopolitanhotel(dot)com.hk
Wendy Mak
Assistant Communications Manager
+852 3552 1808
wendymak(at)cosmopolitanhotel(dot)com.hk