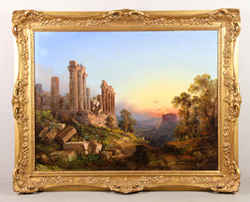 Beverly, Massachusetts (PRWEB) January 05, 2016
Kaminski Auctions 2016 auction schedule kicks off with an Unreserved Estate Auction on January 17th, 2016. The auction features an extensive collection of fine art collected over a lifetime from the estate of Harold "Harry" Everson of Marblehead, Massachusetts. There is also a selection of Twentieth Century and Modern items featured in the sale.
Top lot of the sale is a large luminous painting from a California estate that features a view of the ruins of Argento, Sicily. It is signed "Agento Sicilia" and dated "1856" measuring 33 inches high by 43 and a half inches wide in a late 19th/20th century gilt frame and is valued at $20,000-$30,000.
Also of importance is an Alexander Rau (German, 1878-1944), Dutch floral market scene, oil on canvas, signed lower right from a Massachusetts estate estimated at $4,000-$7,000.
There is a wonderful portrait of the Countess of Bedford, by the Dutch painter Sir Peter Lely (Dutch, 1618-1680), oil on canvas, in it's original 18th century carved gilt wood frame and is valued at $6,000-$9,000, as well as a painting of a Spanish matador, by Enrique Segura Iglesias (Spanish, 1906-1994) valued at $4,000-$7,000.
Modern lots featured include several pieces of Hideaki Miyamura Studio pottery from a Maine private collection. Famous for his iridescent glazes the stand out piece is a double-gourd shaped vase, measuring 15 inches high and estimated at $8,000-$12,000.
Two modern teapots from a Pennsylvania estate feature in the sale including a Michael and Maureen Banner American, 20th century hand-wrought modern teapot in sterling silver and enamel, measuring 16 1/8 inches high and weighing approximately 26.0 troy ounces and a Ralph Bacerra (American, 1938-2008), teapot on stand in porcelain, signed "Bacerra 90". They are valued at $5,000-$9,000 and $5,000-$7,000, respectively.
Sculpture in the sale includes an Art Deco silvered bronze of "Diana The Huntress" by the celebrated sculptor Raymond Leon Rivoire (French, 1884-1966), with the foundry mark, Susse Frères Eviteures Paris, measuring 29 inches high by 32 inches in length from a Florida estate, with an estimate of $7,000-$9,000 and a Romao Toneanti carved marble and wood sculpture 25 ½ inches high valued at $3,000-$5,000.
Twentieth century collectors will also find an Alexander Calder (American, 1898-1976), modern woven carpet, initialed and edition 15/100, dated "1975 and a Carlo Scarpa (Italian, 1906-1978), "Pennellate" vase in clear glass, with fused ribbons in yellow and purple, made by Venini & Company circa 1960, and signed "Venini Murano" in the offerings.
Disparate items of interest in the sale include "The Royal Cabinet of Games," a 19th century ebony cabinet with decorated plaques and a complete set of chess, dice, checkers, cards, chips and mounted jockeys valued at $3,000-$4,000, an outstanding Flavel Bingham mahogany tall clock with fruitwood inlay, circa 1800 standing 92 inches high estimated at $1,000-$2,000 and a Dogon tribe door panel from Mali made of carved wood and wrought iron depicting warriors in battle with it's original lock on an iron base. This spectacular piece, ready for display measures 78 inches high by 32 inches wide and is valued at $5,000-$8,000.
The second session of the auction features over 200 lots of fine art collected over a lifetime from the estate of Harold "Harry" Everson of Marblehead, Massachusetts.
Preview for the auction takes place Thursday- Saturday, January 14th-16th ,10:00am-5:00pm and day of sale at 8:00am at the Kaminski Auctions gallery, 117 Elliott Street, Rt.62, Beverly, Massachusetts. For more information and to sign up to bid with KaminskiLIVE go to http://www.kaminskiauctions.com.