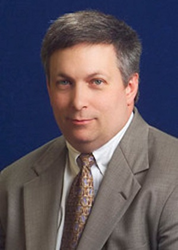 Troy, Mich. (PRWEB) January 05, 2016
North American Bancard (NAB), an award-winning industry leader in credit card processing and provider of the PayAnywhere point-of-sale solution, has announced it has hired Jim Parkinson as chief information officer. In his new position, Parkinson will be responsible for the company's IT operations, including IT engineering, PMO and the IT products and strategy teams.
Parkinson comes to NAB with extensive experience with digital projects and strategies, and in leading IT teams. In his most recent position with Valassis, Parkinson was the chief technical officer, chief digital officer and executive vice president of digital advertising, where he was responsible for the oversight of the company's technology directions, development and implementation of the digital media strategy. Parkinson was instrumental in executing Valassis' acquisition of Circle Street and Brand.net. He also managed the company's overall business strategy, which included digital coupons and web-based/mobile offers for RedPlum.com and Save.com, a local advertising and digital ad network. Parkinson also managed the building of a state-of-the-art product development team that was responsible for growing the digital business.
Before joining Valassis, Parkinson spent 24 years at Sun Microsystems in a variety of positions including senior vice president of cloud computing engineering and director of partner sales-East Coast. While at Sun, he was part of the team that built the world's first utility computing platform that led to the introduction of cloud technology. During his time at Sun, Parkinson also led many different teams, including the Sun developer network, developer products and productivity products and solution delivery.
"Jim has an impressive record of success in the information technology and digital products fields, domestically and internationally, and we are thrilled that he is bringing his experience to North American Bancard," said Marc Gardner, founder, president and CEO of North American Bancard. "His extensive technology and product experience will strengthen our ability to continue offering our merchants the most innovative products and services on the market."
About North American Bancard
Headquartered in Troy, Michigan, award-winning North American Bancard is an industry leader in credit card processing, providing a variety of merchant services that help client companies of all sizes develop solutions for payment processing, including credit, debit, EBT, check conversion and guarantee, gift & loyalty cards, and much more. As an MSP/ISO since 1992, North American Bancard is dedicated to offering the highest service levels, exceptionally competitive pricing, and the latest technology to its client companies, including PayAnywhere, its proprietary point-of-sale (POS) solution. With over $34 billion worth of payments processed for more than 250,000 businesses every year, North American Bancard is determined to help American business prosper. For more information, visit http://www.nabancard.com.