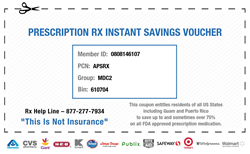 Atlantic City, NJ (PRWEB) January 06, 2016
Doctors estimate that as many as 30 percent of women will develop thyroid problems during their lives. One little gland can cause a great deal of trouble, if not properly attended to. In observance of National Thyroid Awareness Month, Medicationdiscountcard.com seeks to educate, and is proud to offer free coupons to save patients money on the costs of necessary prescriptions.
Thyroid Gland
Located at the base of your neck, the thyroid is a butterfly-shaped gland that controls many of the metabolic (energy-use functions) in the human body. These metabolic functions account for a great deal, such as breathing, heartrate, weight gain/loss, and body temperature. It is one of the most important glands in the human body, and its malfunction leads to a host of medical problems.
Hyperthyroidism
Sometimes the thyroid produces more hormones than are necessary for regular metabolic functioning. This condition, called hyperthyroidism, often leads to hand trembling, irregular menstrual cycle, trouble sleeping, hair loss, and hyperactivity. Hyperthyroidism is sometimes caused by an autoimmune disorder known as Graves' disease. Treatment options for hyperthyroidism usually involve antithyroid medications; designed to inhibit the excessive amount of thyroid hormones in the body. Anyone may print a Methimazole coupon or a Propylthiouracil discount card to use with their prescription.
Hypothyroidism
Sometimes the thyroid gland does not produce enough hormones to meet the body's metabolic needs. Often caused by inflammation – which damages cells – or diseases such as Hashimoto's thyroiditis or thyroid cancer, a damaged thyroid can lead to a condition called hypothyroidism. Symptoms of hypothyroidism include: hair loss, coarse/dry hair, fatigue, weakness, excessive weight gain/loss, and depression. Extreme hypothyroidism can lead to goiters, or enlarged thyroids which bulge and protrude from the base of the neck.
Treatment usually includes hormone replacement therapy, and is a relatively easy fix for most who suffer from hypothyroidism. Essentially, prescribed drugs supplement the amount of hormones the body needs; which are not produced naturally by the malfunctioning thyroid. Unfortunately, since there is no cure, patients are often prescribed such medications indefinitely -- leading to extended prescription costs. Using a Levothyroxine coupon can help alleviate some of the costs of this prescription at the pharmacy.
Thyroid Cancer
Up to 56,000 new patients (in the United States alone) will be diagnosed with thyroid cancer on a yearly basis. Cancer of any type is devastating, but thyroid cancer can lead to additional health problems -- including hypo and hyperthyroidism. The medical costs of cancer medications have skyrocketed over the years. Patients seeking assistance with the cost of medications prescribed can freely print many coupons to help at Medicationdiscountcard.com.
The American Thyroid Association (ATA) estimates that around 20 million Americans have some form of thyroid disease. Early detection and prevention are the key to keeping thyroid disease under control, and side effects to a minimum. Patients should ask their doctor about regular thyroid screenings (via a simple blood test) if they have a family history of thyroid disease.
Note: The information above is intended to supplement, not substitute for, the expertise and judgment of your physician, pharmacist or other healthcare professional. It should not be construed to indicate that use of the drug is safe, appropriate, or effective for you. Consult your healthcare professional before using this drug.
About Medicationdiscountcard.com
Medicationdiscountcard.com was started to provide discounts on prescription drugs to those who need it most. Our goal is to provide you with the largest savings possible when compared to other cards. We invite you to compare the savings our card will provide to that of other leading providers.