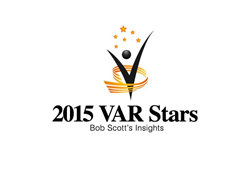 It is always an honor to recognize those who contribute to the development of our business.
Houston, TX (PRWEB) January 11, 2016
AcctTwo, a leading consulting firm and provider of cloud-based financial management solutions, announced that the firm has been selected as a member of Bob Scott's VAR Stars list for 2015, a group of 100 organizations honored for their accomplishments in the field of midmarket financial software.
Members of the VAR Stars were selected based on factors such as growth, innovation, industry leadership and recognition. Selection is not based on revenue, and the firms chosen represent a wide range of size as well as many different software publishers.
"Each year, 100 VAR Stars are picked from the best organizations that market financial software," said Bob Scott. "It is always an honor to recognize those who contribute to the development of our business."
AcctTwo is part of a rare breed of reseller in that the company was "born in the cloud." AcctTwo only offers cloud-based SaaS products, whereas most other VARs on Scott's list are supplementing their legacy on-premise software product lines with cloud offerings. AcctTwo has a particularly strong presence and deep industry expertise providing SaaS accounting software, ERP, and Business Process as a Service (BPaaS) outsourcing to the Oilfield Services, Faith-Based, and Software and Technology industries.
"We're very pleased and honored to be mentioned for the second consecutive year in Bob's list of top VARS," says AcctTwo CEO and Founder Marcus Wagner. "I credit the high level of expertise and customer focus among our sales, support and implementation teams, as well as the tremendous support we receive from the entire leadership team at Intacct."
Additional Resources:

About Bob Scott:
Bob Scott has been informing and entertaining the mid-market financial software community via his email newsletters for 16 years. He has published this information via the "Bob Scott's Insights" newsletter and website since 2009. He has covered this market for 24 years through print and electronic publications, first as technology editor of Accounting Today and then as the Editor of Accounting Technology from 1997 through 2009. He has covered the traditional tax and accounting profession during the same time and has continued to address that market as executive editor of the Progressive Accountant since 2009.
About AcctTwo:
AcctTwo is a leading consulting firm and reseller of cloud-based accounting and financial management software. Our sophisticated systems solve the issues growing middle market companies face today. AcctTwo also provides Business Process as a Service (BPaaS) solutions, allowing clients to focus on the core competencies of their business. We provide the people, processes, technology, and office facilities to perform these functions, while allowing clients to collaborate interactively through an on-line portal.
AcctTwo is headquartered in Houston, Texas. For more information, please visit http://www.accttwo.com or call 713-744-8400.
Contacts:
Peter Wagner
Director of Marketing
AcctTwo
Cell: 512.415.6846
Email: pwagner(at)accttwo.com
Chris Wailes
VP, National Media Relations
Pierpont Communications
Direct: 713.627.2223
Email: cwailes(at)piercom.com