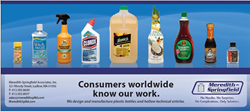 Since 1983, Meredith-Springfield has been a leader in identifying trends and market niches in the plastics industry
LUDLOW, MA (PRWEB) January 05, 2016
Meredith-Springfield, New England's premier blow-molded products manufacturer, has released a Case Study outlining its innovative design and manufacturing solution for the revolutionary EZ Funnel.
When Ed Baker was looking for a manufacturing and design partner for his innovative solution for delivering fuel additives to Capless Fuel systems, he reached out to Meredith-Springfield.
Baker Supply was established in 2004 to provide packaging and design service solutions for the automotive industry. The most recent iteration of that service is the development of EZ Funnel.
The unique product was initially launched to address a specific need for the new Capless Fuel systems but has taken on a life of its own. The patented snap on feature works extremely well with both plastic and canned fuel additive products and makes the pouring of theses additives simple and spill-proof.
"This was one of the more difficult projects we have undertaken and there were a lot of moving parts," said Baker. "We have had projects with Meredith-Springfield in the past and I consider Mel O'Leary to be something of plastic bottle scientist."
Since 1983, Meredith-Springfield has been a leader in identifying trends and market niches in the plastics industry. Based in Ludlow, MA, Meredith-Springfield has established its reputation by serving clients that range from Fortune 100 corporations to one-person enterprises that include local, domestic and global entrepreneurial start-ups.
EZ Funnel fits into the latter category and Meredith-Springfield was able to provide the necessary customization and manufacturing flexibility to deliver the revolutionary product on-time and within the budget.
"From a molding standpoint it is a very unique design," said Baker. "The robotics that go into this have to be very precise. Meredith-Springfield has a history of being able to handle these types of difficult projects."
Complete details of the Case Study are available through http://www.meredithspringfield.com.
ABOUT MEREDITH-SPRINGFIELD
Meredith-Springfield is New England's premier blow-molded products manufacturer. The company provides world-class design, engineering, development and production services for blow-molded plastic bottles, containers, and highly-technical hollow articles.
Unlike many in the industry that work with stock molds, Meredith-Springfield works only with privately-owned custom molds, ensuring the ability to create products unique to each client's company and brand.
From long-run and short-run products to test-market quantities of custom blow-molded prototypes, Meredith-Springfield provides quality and custom solutions to your blow molding needs.
For more information on Meredith-Springfield, please call (413) 583-8600.