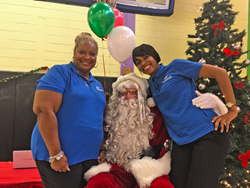 Suitland, Maryland (PRWEB) January 05, 2016
Andrews Federal Credit Union recently provided stocking stuffers and candy bags to military families on Joint Base Andrews (JBA) as part of "Breakfast with Santa", sponsored by Andrews 11FSS/FSK. The items were given in support of both deployed and active duty military this holiday season.
"Breakfast with Santa" treats all military families on JBA to a home cooked breakfast, festive entertainment, prizes, and an unforgettable picture with Santa.
"Nothing was more rewarding than seeing the joy on the children's faces," said Andrews Federal's Jeania Bagley, MSR, JBA Branch. "When I consider all that our service members do for us daily, it felt good to return a kind act."
About Andrews Federal Credit Union
Andrews Federal Credit Union was founded in 1948 to serve the needs of military and civilian personnel by providing a vast array of financial products and services. With over $1 billion in assets, Andrews Federal has grown to serve more than 116,000 members in the District of Columbia, Joint Base Andrews (MD), Springfield, Virginia (VA), Joint Base McGuire-Dix-Lakehurst (NJ), and military installations in central Germany, Belgium, and the Netherlands. In addition, the Credit Union serves as a financial partner with many select employee groups in Maryland, the District of Columbia, Virginia and New Jersey.
To learn more about Andrews Federal Credit Union and its community involvement, or to become a member, call 800.487.5500 or visit http://www.andrewsfcu.org.