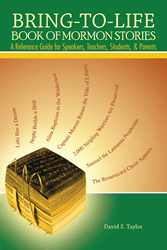 I take to heart President Ezra Taft Benson's call to flood the earth and our lives with The Book of Mormon
SMITHFIELD, Utah (PRWEB) January 07, 2016
Just in time for the start of the 2016 Church curriculum, Bring-to-Life Book of Mormon Stories offers a useful tool to help readers better understand and apply Book of Mormon stories to their own lives.
Whether you're new to The Church of Jesus Christ of Latter-day Saints, a long-time member, or simply interested in learning about The Book of Mormon, author David Taylor's quick reference guide breaks down the text into a manageable format.
"I take to heart President Ezra Taft Benson's call to flood the earth and our lives with The Book of Mormon," Taylor said. "It is truly the fulfillment of a dream to see this book in print after so many years, so that others may benefit from it."
Taylor has served in many callings in the Mormon Church and was inspired to write a book after he struggled to recall all the details of Book of Mormon stories he had read many times before. "The idea came to me that it would be beneficial to have condensed summaries of the stories in The Book of Mormon with lessons or principles that could be taught from them," Taylor said. "I could see how such a collection would be a valuable aid to teachers and students in classes, to speakers in preparing talks and to parents and grandparents in family home evenings."
Bring-to-Life Book of Mormon Stories offers readers an easy way to select and review stories quickly, study them and bring them to life by telling them in their own words.
For more information, visit http://www.bookofmormonstories.net.
"Bring-to-Life Book of Mormon Stories, A Reference Guide for Speakers, Teachers, Students, and Parents"
By David S. Taylor
ISBN: 978-1-4917-7886-9
Available in softcover and e-book
Available on Amazon, Barnes & Noble, Hastings and iUniverse
About the author
David S. Taylor has been an avid, lifelong student of the scriptures and has served as bishop, gospel doctrine teacher, teacher improvement coordinator and in many other positions in The Church of Jesus Christ of Latter-day Saints. He holds a bachelor's degree in chemical engineering, as well as an MBA. During his career in aerospace, he did much instructional writing and published technical reports. He and his wife, Kathleen, are parents of four married children, have fourteen grandchildren and live in Smithfield, Utah.
# # #
For review copies or interview requests, contact:
Jade Schwarting
317.602.7137
jschwarting(at)bohlsengroup.com