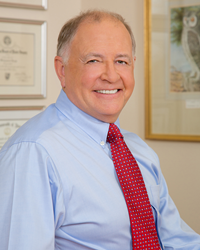 We find that Kybella® is proving popular with Virginia Beach residents who want a slimmer facial silhouette but don't want surgery.
Virginia Beach, Virginia (PRWEB) January 06, 2016
Long a provider of liposuction, Dr. Ben Hugo is no stranger to patients seeking permanent fat reduction on their bodies, including the submental area where a double chin can form. Understanding, however, that not every patient wants the desired results at the cost of surgery, he recently added Kybella® to his Virginia Beach practice. As of late November, patients at Ben Hugo Plastic Surgery have been able to receive injections of the recently FDA-approved cosmetic, which destroys the targeted fat cells and prompts their removal from the body.
Kybella® was the subject of years of clinical studies before gaining the U.S. FDA's approval, for treating under-chin fat only, in April of 2015. After its wide release two months later, Dr. Hugo began the processes and training necessary to begin offering Kybella® himself. He personally handles all of the injections at his practice.
The active ingredient in Kybella® is a form of deoxycholic acid, which is a chemical the human body naturally produces to serve a role in breaking down dietary fat. The version found in Kybella® has a similar function, in that it ruptures fat cells it encounters, causing them to release their fat and never re-form.
This action is what sets Kybella® apart from liposuction on one side and dieting on the other. The acid can be administered via a series of injections, making the process minimally invasive and any recuperative down time virtually nonexistent—as opposed to liposuction, which physically removes fat via a tube and offers slimming benefits coupled with the recovery one would expect from a surgical procedure.
Dieting and exercise require no incisions or injections, but they serve to shrink fat cells, not remove them. This means that bulges that have gone away from areas of the body, including under the chin, can return if the cells there grow large again due to caloric intake, a sedentary lifestyle, and other factors. Submental fat may also be "stubborn" on certain people, meaning it resists their best efforts to shrink it.
While Kybella® is already proving to be a popular new choice at Ben Hugo Plastic Surgery, Dr. Hugo will continue to offer liposuction, as well as CoolSculpting®, which destroys fat cells by removing heat energy from them while preserving the surrounding tissues. No two patients are the same, since they all have different bodies and aesthetic goals, so choices are key for a doctor seeking to meet his patients' individual needs.
Contact Dr. Ben Hugo to learn more about Kybella® in Virginia Beach. Visit benhugo.com or call (757) 496-4801.