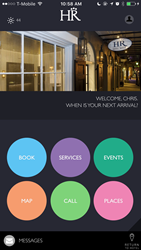 Hotel users can check in, make a reservation, find their way back to the hotel if they are lost, and request a custom tour, all within the app.
New Orleans, LA (PRWEB) January 06, 2016
Apptitude, one of the country's most highly-praised app development studios, has launched three new smartphone apps that reimagine what's possible for branded hotel apps. Hotel Royal, Hotel St. Helene, and Melrose Mansion are all now available for download.
Hotel guests using the app can check in, request a variety of services including housekeeping, make a restaurant reservation, chat in realtime with hotel staff, find their way back to the hotel if they get lost, and call the front desk with the push of a button. Additionally, users can request a custom tour of New Orleans based on their specific requests.
"We're extremely proud of the work we've done with French Quarter Hotel Collection on this set of hotel apps," said Apptitude Founder Chris Boyd. "With their vision and our experience building cutting-edge, innovative apps that push the boundaries of what was previously possible with smartphones, we've crafted apps that will be extremely useful to their guests."
Push notifications let the guest know when certain actions have been completed, such as a reservation request being confirmed or a linen change being completed. App users that aren't yet guests of the hotel can book their next stay inside the app with ease.
About Apptitude: Apptitude is a software development firm based in New Orleans, Louisiana. For over four years, Apptitude has been building beautiful apps for iOS, Android and the web. Learn more about Apptitude at https://apptitude.io.