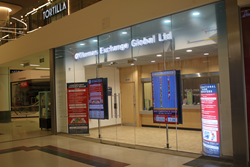 Our 'fast track branch collection' ideally suits their lifestyle with our best travel money deal guarantee and no waiting period—even for exotic and difficult-to-find currencies
London, UK (PRWEB UK) 13 January 2016
A new report by the Office of Rail and Road has revealed a 4.5% increase in UK-based railway travel over 2014/15 with 2.8 billion journeys made total, according to the Evening Standard. With 9 out of the 10 busiest train stations in the UK based in London, foreign currency specialist BestForeignExchange.com alerts commuters of the convenient and competitive travel money rates it offers at all of its London branches—5 of which are located right by train stations ranked as busiest in the report.
London Waterloo, the busiest train station in the UK, recorded a footfall of 100 million in 2015, while the top 5 stations (all located in London) handled an aggregate of 340 million passengers, as reported by the Evening Standard on 15th December. The list of busiest train stations includes Waterloo, Victoria, Liverpool Street, London Bridge and Charing Cross.
London-based currency specialist BestForeignExchange.com has branches located right at the Victoria and Liverpool Stations and Embankment branch at the backyard of Charing Cross while its high street branches of Cannon Street and Strand are based just 10 minutes away from two of the other stations ranked. Furthermore, commuters aren't paying an added cost for convenience and easy access; Thomas Exchange Global continually strives to offer the most competitive exchange rates in London—with instant availability for over 100 different types of foreign bank notes.
"We are strategically located in and around all major train stations and are fully aware of the busy schedule of commuters. As such, our 'fast track branch collection' ideally suits their lifestyle with our best travel money deal guarantee and no waiting period—even for exotic and difficult-to-find currencies," commented BestForeignExchange Senior Manager Trevor Samuel.
BestForeignExhange.com does not charge any commission for travel money transactions and offers the widest variety of foreign currencies compared to its competitors.
"Rail commuters to London from many parts of the country can't wait 24 plus hours to receive travel money—as is standard with many of the known brand names in London's foreign currency marketplace. Our ability to readily meet the foreign currency needs of travellers heading to any part of the globe place us well ahead of the competition in London Rail stations," concluded Trevor.
About BestForeignExchange.com:
Owned and operated by Thomas Exchange Global, BestForeignExchange.com offers the most competitive exchange rates in London and customers that reserve currencies online will be assured the same exchange rate until close of business on the particular day despite any adverse fluctuations. They stock the widest range of foreign currencies in London with over 120 types of foreign bank notes. All foreign currency buy/sell transactions are free of any commission or charges.
Thomas Exchange Global also offers International Money Transfer Service where funds can be remitted to overseas bank accounts within one to two days. With commission free service for transfers over £10,000 backed by competitive exchange rates, customers are assured of a better deal and a substantial saving compared to banks and money brokers.
Thomas Exchange Global branches are located at Strand, Embankment, Victoria Street, Victoria Place (Victoria rail Station), Liverpool Street, , Wormwood Street, Cannon Street, Canary Wharf, Hammersmith, High Street Kensington and Richmond.