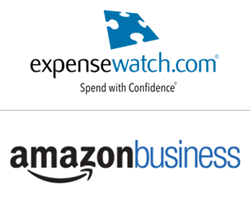 "Having a robust integration to Amazon Business provides our customers with a wide selection of products to choose from, while also empowering them to control and manage spending in one seamless process from within ExpenseWatch."
Plymouth Meeting, PA (PRWEB) January 06, 2016
ExpenseWatch now offers Amazon Business as a preferred punch-out vendor to all of its Purchasing customers. Any customer can access Amazon Business from within ExpenseWatch's Purchasing module and empower their organizations to easily find the products they need, and add them to a purchase requisition.
"We're extremely pleased to be able to give all of our customers, independent of size or purchasing power, access to Amazon Business for easily purchasing many of the products they need to keep their operations in motion," said Bill Vergantino, president and CEO of ExpenseWatch. "Having a robust integration to Amazon Business provides our customers with a wide selection of products to choose from, while also empowering them to control and manage spending in one seamless process from within ExpenseWatch."
Customers can now access, or "Punch-Out" to, Amazon Business while creating a purchase requisition from within ExpenseWatch. They punch-out to the Amazon Business marketplace, search for and add products to their shopping cart. When they're finished on Amazon Business, their shopping cart automatically creates a purchase requisition within ExpenseWatch. The purchase requisition can then either have products from other vendors added to it or be routed for approval, leveraging ExpenseWatch's approval workflow and policy enforcement platform. Once requisitions are approved, purchase orders are generated and orders are sent to Amazon Business.
"We all know how convenient Amazon is for online shopping, so this is really exciting. In addition to managing our travel expenses and purchasing through ExpenseWatch, the Amazon Business link now offers an integrated solution for one-stop shopping for business purchases, with the same user-friendly experience that people associate with Amazon," said Terri Pike, Vice President Controller for AMC Health. "We are a dynamic, rapidly-growing company with geographically dispersed employees. This integrated solution takes care of the myriad processes that go into managing expenses, dealing with paper receipts, and chasing down approvals via emails, freeing up precious time that can now be spent on growing our business."
ExpenseWatch customers can either leverage an existing Amazon Business account or set up a new account from within the ExpenseWatch Purchasing solution.
About ExpenseWatch (http://www.ExpenseWatch.com)
ExpenseWatch automates manual, time consuming paper-based processes, for visibility and control over organizational spending, empowering customers to spend with confidence. Modules for expense reporting, purchasing and payable invoices (bills) resolve specific spending issues, or can be combined to provide a comprehensive spend management suite. The company was founded in 2000, released the first version of its spend management service in 2003 and currently manages almost $3 billion in annual spend transactions on behalf of its customers. The company is privately held with headquarters in Plymouth Meeting, PA, a suburb of Philadelphia.
###