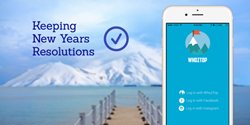 "Turning New Year resolutions into fun, informal competitions with friends is an easy way to stay on track and to keep everyone motivated"
Saratoga, CA (PRWEB) January 07, 2016
The latest release of the WhozTop app now makes it easy to create and share custom competitions on who can do the "Most" or "Least" of anything. An easy and fun way to keep track of progress for new years resolutions with friends.
Matt Foster co-founder states "New years resolutions sometimes need a little motivation to keep them going, now anyone can create competitions on them and invite friends to join in. Everyone submit's their own results through the app which keeps a live leaderboard for everyone to see."
Whatever the new years resolution is, to read more books, hit the gym more often, go on more trips, have a dry January, whatever seemed like a good idea on Jan 1st can now easily be turned into a competition and shared with friends to take part, stay motivated, track results and have fun.
WhozTop app allows users to set basic rules for any type of competition they can think up and then invite friends to take part. Each person updates their own results through the app and everyone see the updates as things change. The live leaderboard shows who is top and where everyone else ranks.
WhozTop app includes a wide range of pre-defined units of measurement for competitions such as "miles", "reps", "steps", "lbs", "dollars", "time", "points", "likes" and many others. In addition users can also define their own units of measurement and decide if "most" or "least" is better.
WhozTop is a free mobile app for iPhone and Android and is available for download in the app stores.