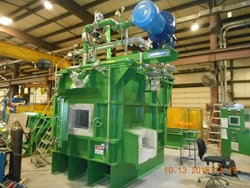 At Lindberg/MPH we work with our customers to provide the most efficient solutions to their production needs. For this customer, hooking into their existing equipment was the most effective solution to increase their melting capacity.
Riverside, MI (PRWEB) January 07, 2016
Lindberg/MPH announced the shipment of a gas-fired aluminum stack melting furnace for a leader in the marine industry. The industrial furnace was modified to hook directly to the customer's existing melting furnace to provide additional melting capacity and efficiency.
The customer requested a system that would increase melt rate, enhance safety, and improve efficiency with state of the art process control. Lindberg/MPH took the customer's request and designed a stack melting system to attach to the customer's existing melting furnace via a short and enclosed launder connection trough. The two manually operated doors on adjacent sides allow for easy access to the melting chamber for cleaning. The laser charge stack level control monitors material level in the stack for maximum efficiency. A service technician provided by Lindberg/MPH will perform supervision during the installation period and perform onsite start-up and training.
The stack melt zone of the industrial furnace consists of a sloped charging stack that helps to minimize impact damage from ingot or large heavy scrap. Instead of falling directly onto the impact zone it slides and tumbles to the bottom of the charging stack. At the intersection of the stack and hearth the metal begins to melt. Additional material that is charged in the stack is preheated until the metal below it becomes molten and runs off the hearth through the flanged connector into the separate customer supplied melting and holding furnace.
Unique features of this aluminum melting furnace include:
> Rugged steel construction
> Impact resistant castable lining
> Two side access cleaning doors
> Installation supervision and start-up
> Integrated programmable logic process controller
> Laser charge stack level control
About Lindberg/MPH
In addition to melting and holding furnaces for non-ferrous alloys, Lindberg/MPH is a leading manufacturer of standard and custom industrial heat treat furnaces, including pit, box, IQ, and belt type for the ferrous and non-ferrous markets. Lindberg/MPH customers cover a wide range of industries including aerospace/military, automotive, commercial heat treating, energy/oil, electronics and the forging markets. Founded in 1917, the company has more than 75,000 industrial furnace installations worldwide and their equipment is backed by a full range of customer support services and the most extensive replacement parts inventory in the industry. Lindberg/MPH is a proven leader in the thermal processing industry, with a long track record of proven policies and management practices.
Lindberg/MPH is owned by Thermal Product Solutions ("TPS"), a leading American manufacturer of custom industrial ovens used for heat treating, finishing, drying, curing, manufacturing automation and process control. TPS is a global leader in thermal processing products and test solutions with brands including Baker Furnace, Blue M, Gruenberg, Tenney, Lindberg, MPH, and Wisconsin Oven. For more information on equipment solutions from TPS visit the website at http://www.thermalproductsolutions.com.