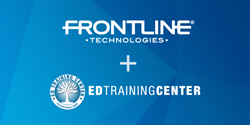 The acquisition of EDTRAININGCENTER allows us to further immerse ourselves in the success of our professional growth customers following the May 2015 acquisition of MyLearningPlan.
Malvern, PA (PRWEB) January 06, 2016
Frontline Technologies has acquired EDTRAININGCENTER, an online training and professional growth content provider for the K-12 education community. EDTRAININGCENTER is a cloud-based professional development resource that will expand the reach of Frontline's professional growth and applicant tracking solutions through vetted content.
As a leading provider of online training and professional development to the K-12 education technology market, EDTRAININGCENTER's education resources allow school districts to make the most of their professional development programs, maximizing time and efficacy. Focusing on student objectives first to create a curriculum rooted in best practices, EDTRAININGCENTER's trackable, flexible and targeted learning modules are designed to affect student outcomes from the start.
"The acquisition of EDTRAININGCENTER allows us to further immerse ourselves in the success of our professional growth customers following the May 2015 acquisition of MyLearningPlan," said Frontline President and CEO Tim Clifford. "EDTRAININGCENTER's dedication to providing educators with best-in-class content aligns with our vision of serving the education community through integrated K-12 software solutions."
Through last year's acquisition of MyLearningPlan, Frontline Technologies now offers industry-leading professional development resources including professional growth management, evaluation and custom learning modules. The acquisition allows Frontline to incorporate EDTRAININGCENTER's premium K-12 educator content into comprehensive professional development and applicant tracking solutions, including onboarding, state-mandated and compliance training that impact the entire teacher lifecycle.
Through the acquisition, Frontline Technologies is able to leverage professional growth content resources internally rather than referring to an external content provider, offering a more integrated solution to educators. Incorporating EDTRAININGCENTER's high-quality content into the MyLearningPlan and AppliTrack systems benefits districts and educators by providing applicable training that has a measurable impact in the classroom and during the onboarding process.
"Frontline Technologies is rapidly emerging as a leader in professional growth for educators," said EDTRAININGCENTER CEO Rachel Fisher. "Delivered through Frontline's progressive K-12 education solutions, the nationally-recognized content and resources that EDTRAININGCENTER has developed to train more than 200,000 teachers nationwide will continue to serve educators well going forward."
Frontline Technologies offers the broadest-reaching set of solutions in the K-12 education market, providing professional growth and HR software to well over 6,000 school districts nationwide. Bolstered by the very recent definitive agreement to acquire Teachscape, Inc., Frontline's strong and rapidly growing market position is coupled with premier client services and support, featuring a customer retention rate over 97% across all products.
###
About Frontline Technologies: Frontline Technologies provides cloud-based K-12 software that empowers over 6,000 school districts and millions of educators to positively impact student learning. From recruiting, hiring and absence management, to professional learning and evaluation, Frontline partners with the education community to support the entire educator lifecycle. Built on a foundation of best practices, Frontline gives organizations the tools to focus on data-driven decisions, collaboration, meaningful growth and application to classroom practice. Frontline Technologies corporate headquarters are located in Malvern, Pennsylvania, with offices in New York and Chicago.
About EDTRAININGCENTER: EDTRAININGCENTER is a leading provider of online compliance, onboarding, and professional development training to the K12 industry. EDTRAININGCENTER's courses all utilize school-based imagery, titles, and scenarios to build context and all are 100% trackable, meaning that administrators have the peace of mind that comes with knowing that learner transcripts show actual usage and completion of selected courses.