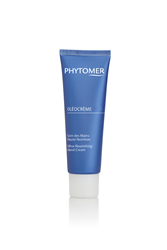 Formulated with a nourishing marine oil duo, it drenches the skin in intense moisture.
SAINT-MALO, FRANCE (PRWEB) January 26, 2016
Available in select spas in the United States January 2016 and at http://www.phytomerusa.com
Phytomer OLÉOCRÈME Ultra-Nourishing Hand Cream is a rich, silky cream to repair and protect dry, damaged hands. Formulated with a nourishing marine oil duo, it drenches the skin in intense moisture. Mekabu oil and glasswort oil join forces to strengthen the cohesion of dermal and epidermal skin cells, locking in moisture and limiting water and urea loss through the skin's surface. Enriched with shea butter for ultimate skin softness, it has a comfortable, non-greasy texture and is quickly absorbed by the skin, providing immediate and continual hydration that lasts even after hand-washing. It has a fresh, citrus scent for a pleasant sensory experience upon application. Day after day, OLÉOCRÈME Ultra-Nourishing Hand Cream reveals perfect hands - skin is intensely nourished, comforted and better protected from external stress.
OLÉOCRÈME Ultra-Nourishing Hand Cream, 50 ml, suggested retail price $38.00
Directions for use: Apply a small amount daily to the backs of the hands, gently massaging into the hands and fingers.
Key ingredients:
Marine Oil Duo

Mekabu Oil - extracted from Weaving Algae by super-critical CO2 extraction, without the use of chemicals or solvents, to retain 100% of its exceptional moisturizing properties. Strengthens cohesion between dermal and epidermal cells to limit water loss.
Glasswort Oil - extracted from a seaside plant known to thrive in arid regions. Strengthens the lipidic barrier for less permeable skin, reducing loss of water and urea.
Impressive results:
100%* of women prefer this hand cream to their usual cream.
IMMEDIATELY
Intensely nourishes hands: 100%*
Relieves weakened/damaged hands: 100%*
Softens dry and rough hands: 100%*
FROM MORNING TO NIGHT
For more than 8 out of 10 women*:
The skin is comfortable all day long.
For more than 7 out of 10 women*:
The comfort is resistant to hand washing.
*Satisfaction test on 24 women, twice-daily application for 28 days.
Phytomer at a glance:
With over 40 years as the leader in the marine skin care, Phytomer is now a pioneer in the field of marine biotechnology, the future of results-oriented cosmetics. This is the newest technology to create innovative, 100% natural skin care ingredients. Based in Saint-Malo, France and distributed in 70 countries worldwide, Phytomer has a reputation of leadership and expertise within the spa industry. With Phytomer meaning "plant of the sea," we utilize seawater, seaweed or seaside plants in every retail and professional product, combining science with the natural powers of the sea. We are one of the only spa brands with our own laboratory, allowing us to research and cultivate our own ingredients, develop unique cosmetic formulas, manufacture skin care products and create cutting-edge professional treatments to deliver remarkable results.