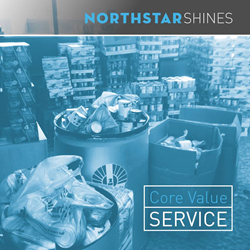 Orem, UT (PRWEB) January 06, 2016
This past month, NorthStar hosted its annual food drive and collected 6,036 food items and $1,908 in cash donations to benefit the Provo Community Action Food Bank. The company created a "Hunger is not a Game" themed inter-office competition for food donations that included physical competitions to earn more cans for their team. By the end of the week, the company had collected 6,036 physical donations for the Provo Community Action Food Bank and $1,908 in online donations – an average of 46 donated food items per employee.
The Food Bank encourages businesses and organizations to organize and create fun company-wide food and fund drives to help fill the shelves at local food pantries. For every $1 donated, the Provo Community Action Food Bank can provide 5 meals to those in need.
To learn more ways to get involved, visit communityactionprovo.org.
About NorthStar Alarm
NorthStar is one of the fastest growing home security and automation companies in North America. For more than a decade, NorthStar has been providing families with peace of mind, while staying true to the core values of integrity, accountability, and service. NorthStar is now serving over 50,000 customers nationwide, and has the equipment, relationships, and reputation that you can count on. Visit northstarhome.com for more information.
About Provo Community Action and Food Bank
Community Action Services and Food Bank is a non-profit organization in Provo, Utah that provides a two-step process to solving poverty: first, to stabilize the person and then rebuild their life. Since 1967, the agency has stabilized persons in need by meeting their basic critical needs (such as food and housing) while providing them with the long-term solutions needed to rebuild their financial and social self-sufficiency, enabling them to break out of poverty.