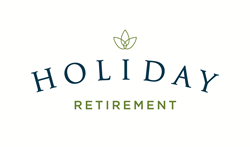 LAKE OSWEGO, Ore. (PRWEB) January 05, 2016
Holiday Retirement ("Holiday" or the "company") announced the transition of its current chief executive officer, Kai Hsiao, to the role of vice chairman, and the appointment of Lilly Donohue as its new chief executive officer, effective today. Mr. Hsiao is stepping down as CEO to focus on personal health matters.
"I am confident that Holiday is well positioned to continue to successfully serve the needs of its residents and to fulfill its strategic corporate goals," said Mr. Hsiao. "Thanks to the hard work and dedication of many talented individuals who have worked alongside me, Holiday has become an industry-leading, nationwide senior housing platform during my tenure as CEO. And as vice chairman, I'll continue to support the team to ensure a seamless transition."
Since joining the company in 2008, Mr. Hsiao has served in many leadership positions at Holiday. Mr. Hsiao played an important role in growing the company's occupancy, NOI and EBITDA through organic growth and acquisitions, recapitalizing the company through triple net and third-party management transactions, and centralizing operationally intensive functions. Mr. Hsiao, who previously worked at Macerich and Canyon Ranch, also drew on his experiences in the retail and hospitality industries to modernize Holiday's corporate infrastructure through initiatives such as the first automated revenue management system in the senior housing industry.
"I am honored to join the Holiday team as CEO. I look forward to building upon the exceptional accomplishments of Kai and his team, as well as my own experiences in senior housing and private equity," stated Ms. Donohue. "The senior housing industry is large and growing, with strong long-term fundamentals. Against this backdrop, I am excited to lead the U.S.'s largest independent living operator and second largest senior housing operator to the benefit of its current and future residents. I truly believe Holiday's best days are yet to come."
Prior to joining Holiday, Ms. Donohue spent four and a half years establishing a senior living business in Shanghai, China that is widely considered one of the most successful foreign senior living operators in China as measured by occupancy and profitability.
About Holiday Retirement
Since 1971, Holiday Retirement has endeavored to provide its signature "Holiday Touch" to residents and their families. Today, Holiday is a trusted name in senior living and provides security, comfort, and value to independent seniors seeking a fulfilling lifestyle. Holiday operates more than 300 retirement communities, making it the second largest senior housing operator in the United States. For more information about Holiday Retirement, please call 800-322-0999 or visit http://www.holidaytouch.com.