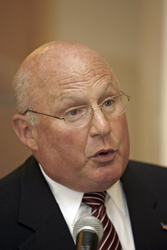 Deadly police shootings in Baltimore, Chicago, Ferguson, and other U.S. cities have eroded the trust between law enforcement and the communities they serve, and this deteriorating relationship must be addressed objectively, honestly, and immediately
San Francisco, CA (PRWEB) January 05, 2016
More than 200 law enforcement officials from across California—including nearly 30 police chiefs and representatives from the California Highway Patrol—will gather this week at the University of San Francisco (USF) to address the growing racial tensions that are undermining relationships between law enforcement and those they serve, especially African-American males.
This vital discussion will take place at a two-day symposium Jan. 7—8 at the University of San Francisco's McLaren Conference Center, 2130 Fulton Street. The symposium is sponsored by USF's International Institute of Criminal Justice Leadership, in partnership with the San Francisco Police Department (full schedule below).
"Deadly police shootings in Baltimore, Chicago, Ferguson, and other U.S. cities have eroded the trust between law enforcement and the communities they serve, and this deteriorating relationship must be addressed objectively, honestly, and immediately," said Tony Ribera, former San Francisco police chief and director of USF's International Institute of Criminal Justice Leadership.
"A lot of people automatically take one side or the other in this issue, but this is not about taking sides," Ribera said. "This is about taking a serious look at the situation, determining what's wrong, and fixing it. I believe officers will leave here with a more comprehensive understanding of the problem, and with concrete ways to improve the relationships they have with their communities."
Almost all of the symposium's participants hold leadership positions in law enforcement, and have a rank of lieutenant or above. About 20 percent are part of a minority group. Participants include the U.S. Marshals Service, 15 officers from the California Highway Patrol, San Diego's district attorney, and the police chiefs from nearly 30 California cities, including: Belvedere, Berkeley, Chico, Citrus Heights, Cloverdale, Cypress, Emeryville, Fontana, Fowler, Millbrae, Milpitas, Modesto, Nevada City, Palo Alto, Pleasanton, Rio Vista, Salinas, San Francisco, San Luis Obispo, San Mateo, San Rafael, Selma, Union City, Vallejo and Walnut Creek.
USF's International Institute of Criminal Justice Leadership is dedicated to ethical leadership training of professionals working in the U.S. criminal justice system, and is part of the USF School of Management. It has sponsored a symposium annually since 1995, and previous topics have included the use of police body cameras, reducing drug crime, and ending violence against women.
Media Contacts: For more information on Black and White: A Matter of Trust—or to arrange an interview—contact Lisa Franzetta, USF School of Management, (415) 422-4186 & lfranzetta(at)usfca(dot)edu, or Gary McDonald, USF Media Relations, (415) 422-2699 & mcdonald(at)usfca(dot)edu.
Media Parking: Free street parking should be easier to find than normal because USF students are still on winter break.
###
Schedule: Black and White: A Matter of Trust
Jan. 7—8 at the University of San Francisco
Thursday, Jan. 7
> 9 a.m.
The Seven Challenges of Contemporary Policing
Presentation by Fr. Edward Malloy, president emeritus of the University of Notre Dame.
> 10:15 a.m.
Closing the Gap Between the Police and the Community
Presentation by Joe Marshall, member of the San Francisco Police Commission and the co-founder and executive director of Alive & Free-Omega Boy's Club
>11:15 a.m.
Organizational Discipline and Accountability to the Community
Presentation by Greg Suhr, San Francisco police chief
> 1:30 p.m.
No Kinship, No Peace
Presentation by Greg Boyle, founder and director of Homeboy Industries in Los Angeles, which offers job training and support to former inmates and gang members. Boyle is an acknowledged expert on gangs and intervention approaches, and will discuss law enforcement's relationship (or lack of) with young African-American males.
> 3 p.m.
The Media's Role in the Public's Perception of Law Enforcement
Panelists:

John Diaz, editorial page editor at the San Francisco Chronicle
Phil Matier, reporter at the San Francisco Chronicle and KCBS radio
Gary Delagnes, former president of the S.F. Police Officers Association and its political consultant
Paul Payne, reporter at the Press Democrat (Santa Rosa)
Jacqueline Thompson, assistant pastor at Oakland's Allen-Temple Baptist Church
Moderator: Nathan Johnson, police chief at Sonoma State University
Friday, Jan 8
> 8:30 a.m.
President Barack Obama's Task Force Report on 21st Century Policing
Panelists:

Max Bosel, Mountain View police chief
Rich Lucero, Fremont police chief
Chris Magnus, Richmond police chief
Greg Suhr, San Francisco police chief
Moderator: Dave Spiller, Pleasanton police chief
> 10:30 a.m.
Black Lives Matter: A Movement or False Narrative?
Interactive discussion. Moderated by Danielle Outlaw, deputy police chief at the Oakland Police Department.
> 12 p.m.
Youth Perspectives on Black and White Relations.
Panel discussion featuring current USF students. Moderator: Dan Lawson, senior director of USF's Department of Public Safety, and former captain at the SFPD.
About the University of San Francisco
The University of San Francisco (USF) is located in the heart of one of the world's most vibrant and beautiful cities, and its student body is nationally ranked in the "Top 10" for ethnic diversity. USF is San Francisco's first university, established in 1855 during the California Gold Rush, and its 10,000 students enjoy small classes, direct access to faculty, and outstanding opportunities in the city itself. USF's Jesuit, Catholic mission helps ignite students' passion for social justice, and offers the education they need to "Change the World from Here." For more information about the University of San Francisco, visit http://www.usfca.edu.