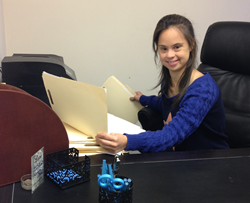 I want to make others aware of people with disabilities, because we're part of the community
Miami, FL (PRWEB) January 27, 2016
Stephanie Perkins, who has Down syndrome, has a dream — and she's determined to make it come true. "My dream is to become a famous model," she says. "I model at the mall and competed in the Model of the Year competition in New York City. I also wish to be on TV. I want to make others aware of people with disabilities, because we're part of the community."
Her Vocational Rehabilitation (VR) counselor, Erline Exume, is confident that she can do it. "You can't put any limitations on Stephanie. She wants to do it all. That's what makes you want to work with her," says Erline. "She doesn't see herself as someone with a disability, so you can't see her that way either."
Stephanie's disability, Down syndrome, is a birth defect that occurs in one in every 792 live births in the US each year, according to the National Association for Down syndrome. Though Down syndrome affects cognitive abilities, many people with Down syndrome are capable of working and holding down jobs. However, they may face difficultly finding suitable work — only 18% of Floridians with disabilities aged 16 and older are employed.
So when Stephanie began dreaming about a career in fashion as a high school student, she came to VR for assistance. VR helps people with disabilities get or keep a job, and one of its main programs is designed to help young people transition from high school to the work place.
"Stephanie was so determined, persistent, and willing to find a job that you had to feel the same way to keep up with her," says Erline. Erline paired Stephanie with job coach Kira Stadnik with Vision Community Development Corporation to help her find that job.
"Stephanie was eager to start working," says Kira. The two practiced interviewing techniques and reviewed her resume. A local clothing design company, Designs by Camillas, had an opening for an office clerk, and Stephanie interviewed for the job. She won over her interviewers and was hired.
Kira is proud of Stephanie. "She's a hard worker and so much fun to be around. All of the employees love to be around her. She follows directions well and is very responsible," says Kira.
Stephanie is excited to be working at Designs by Camillas. "The people are nice at my work. I love getting paid. I'm saving my money to buy a car, and I'm going to get my drivers' license."
Her supervisor, Erika Mejia, Vice President at Designs by Camillas, has high praise for Stephanie. "We're glad to have Stephanie working for us and want to thank Visions for bringing her to us," she says. "We agree that it is very important for persons with disabilities to be employed and enhance their independence."
While she is dedicated to her work, Stephanie is similarly devoted to her extracurricular activities. In addition to modeling, she also gives back to the community by helping children with disabilities. She volunteers at the ARC of Kendall as a teacher's assistant, where she reads to students and helps them learn the alphabet.
Although modeling is her ultimate dream, Stephanie is happy to be working in a job she enjoys while continuing to pursue other activities on the side. "Everyone did an amazing job with my job, and I love everybody."
"It's been a pleasure working with Stephanie and watching her grow in her job responsibilities," says Kira. "She's doing a great job, and she'll go many places in life with her positive attitude."
About Vocational Rehabilitation
Florida's Vocational Rehabilitation (VR) is a federal-state program committed to helping people with disabilities become part of America's workforce. The employer-focused website, https://abilitieswork.employflorida.com/, allows businesses to search at no charge for employees who are ready to go to work, as well as to post available jobs. VR has 90 offices across Florida, and last year helped 5,760 Floridians with significant disabilities find or keep a job. For more information about VR and its services, call (800) 451-4327 or visit http://www.Rehabworks.org.