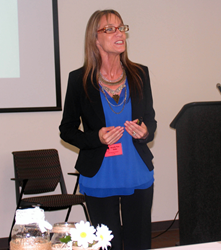 I ended up in prison on a drug charge and decided I would turn my life around. It was the best thing that ever could have happened to me
Jacksonville, FL (PRWEB) January 07, 2016
As our New Year's resolution for 2016, many of us will resolve to take better care of ourselves and lead healthier lives. For Julie Seals, it wasn't a resolution that inspired a healthier lifestyle— she had to hit rock bottom before she decided to make a change.
Julie was born with Spina bifida, a birth defect that occurs when the bones of the spine don't form properly around the spinal cord, and developed neuropathy as a result of the condition. Julie endured 12 corrective surgeries, developed gangrene, and had to have her left leg amputated below the knee. She was constantly in pain, and she didn't manage it well.
"I masked the pain with alcohol, pills, and drugs, and became addicted for 17 long, horrific years," says Julie. "Finally, in 2001, I ended up in prison on a drug charge and decided I would turn my life around. It was the best thing that ever could have happened to me."
After a move from California to Florida, Julie came to Vocational Rehabilitation (VR), a state agency that helps people with disabilities find or keep a job, for help in becoming employed. She met with VR Counselor, Brandi Nieves, and they discussed her career choices. Julie knew that she wanted to help others also become healthier, so VR helped her pursue a bachelor's degree in health science at the University of North Florida (UNF).
During her time at UNF, a professor introduced Julie to the manager of the Quit Smoking Now program at Northeast Florida Area Health Education Center (AHEC). Inspired by her story of overcoming addiction, he offered her a part-time position as a facilitator for the program. Julie accepted and was soon promoted to a full time independent contractor— all while she was still a student. She worked full time for AHEC while finishing her bachelor's degree, and graduated Summa Cum Laude.
After she graduated, her supervisor told her that she would be eligible for another promotion if she could become a certified wellness coach. VR paid for the additional training, and Julie is now the corporate wellness program manager and rural site coordinator for Northeast Florida AHEC.
"I manage the corporate wellness program," says Julie. "I design and create wellness curriculum and workshops, and I am an educational/motivational speaker and presenter specializing in helping people create their own culture of wellness and achieve their dreams. I also place medical students and doctors into rural clinic rotations to improve health in rural areas. Our mission is to improve health in underserved populations."
Julie enjoys her job and is thriving in her career. "I love working! I like that I'm able to use all the skills that I got while working toward my degree in real life, and that I have the freedom to do new things."
Julie is thankful for the help from Brandi and VR. "Brandi has been wonderful and my experience with VR has made all the difference in the world. They've been supportive and caring, and I wouldn't have been able to get my degree or be where I am without their assistance," she says. "I am incredibly grateful that there are organizations like VR that make a way for people like me who have a disability to get an education so they can get out in the world, become more productive and make the world a better place."
About Vocational Rehabilitation
Florida's Vocational Rehabilitation (VR) is a federal-state program committed to helping people with disabilities become part of America's workforce. The employer-focused website, https://abilitieswork.employflorida.com/, allows businesses to search at no charge for employees who are ready to go to work, as well as to post available jobs. VR has 90 offices across Florida, and last year helped 5,760 Floridians with significant disabilities find or keep a job. For more information about VR and its services, call (800) 451-4327 or visit http://www.Rehabworks.org.