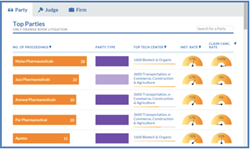 New York, NY (PRWEB) January 06, 2016
Today Docket Alarm announced a suite of tools specifically for Orange Book litigators. The Orange Book, published by the FDA, lists all approved FDA drugs and the patents that cover them. Drug companies commonly rely on the Orange Book to make go-to-market strategies, and often it affects pending Hatch-Waxman pharmaceutical litigation.
"Hatch-Waxman litigation is as high-stakes as it gets, and attorneys need user-friendly tools to research the Orange Book, and stay apprised of changes to it," said Michael Sander, Docket Alarm's Founder and CEO. "This new suite of tools provides attorneys with the latest Orange Book developments for the drugs they are litigating, and allows them to form fact-based strategic legal and business decisions."
Docket Alarm's new suite of tools has three components that help give Orange Book litigators a competitive edge:
1. Tracking the Orange Book: Litigators can now receive an alert whenever a company adds a new patent to an Orange Book listing, changes the labeling on their drug, or otherwise modifies an Orange Book listing. This tracking tool is particularly useful for generic drug manufacturers, as it allows them to continuously monitor the status of a branded drug in Hatch-Waxman litigation.
2. Searching Orange Book Correspondence: In litigation, attorneys rely on the statements made by generic drug manufacturers to the FDA. Docket Alarm provides the ability to research correspondence between drug companies and the FDA. Users can see medical, chemical and pharmacological reviews pursuant to approval, or letters containing changes to the drug listing or label.
3. PTAB Analytics for Orange Book Litigation: Orange Book patents are facing an increasing number of challenges in the PTAB, which offers parties streamlined procedures and lower litigation expenses. Docket Alarm now provides a dedicated Orange Book PTAB research engine, allowing attorneys to easily filter PTAB search results and generic statistics to only those cases where an Orange Book patent is implicated.
Those interested in learning more can click here, or can contact a Docket Alarm support representative at info(at)docketalarm(dot)com.
About Docket Alarm
Docket Alarm is the only research platform that offers patent practitioners a complete PTAB research and analytics platform featuring Orange Book litigation. Docket Alarm offers a window into numerous court docketing systems and was named "Best Legal Research Product" by Legaltech News. Add intelligence to your patent practice today by signing up at docketalarm.com/welcome/Orange-Book-Research-Tools.