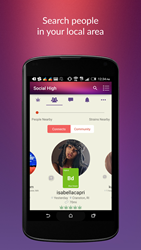 A Marijuana Social Networking Platform
BOSTON/SPOKANE (PRWEB) January 07, 2016
An innovative, cannabis-focused social networking platform designed to increase connectivity between those in the cannabis community has entered the app world and is currently available on Android. The new app, appropriately named Social High, creates a safe and diverse environment that provides users with a unique platform in which they can share their personal cannabis-related experiences and knowledge with others. Strain details and information are powered by the world's largest cannabis information resource, Leafly.
Since its iOS launch in September, Social High has already garnered a high volume of users in 48 states and over 60 countries. Additionally, Social High offers users exclusive features (not available through Weedmaps or Leafly) which include:
· Personal Profile: A reflection of each user consisting of photos, cannabis-focused interests, favorite strains and a user rating system used to score user interactions. To avoid score sabotage, a rating will not be published until the user being rated is given an opportunity to also rate their rater.
· Geolocator: This allows users to see where other members of the Social High community are posting from by city and state, and distance in miles. This feature also facilitates in finding and communicating with other app users located nearby.
Favorite Strains: Users can 'favorite' their preferred cannabis strains and share them with friends.
· User Search: Find other cannabis enthusiasts in your area by using the User Search tool. Identified by their location, favorite strain, photo and rating, users can connect with old friends and grow new relationships.
· Strain Search: By using integrated Leafly strain reports, Social High users can explore the different cannabis strains available throughout the legal market.
· Direct Messaging: Users can connect through the application's direct messaging feature, which allows Social High members to interact with one another in a more intimate space.
· Facebook & Twitter Sharing: Users are given the opportunity to share Social High posts on additional social media platforms such as Facebook and Twitter.
Social High can be an especially beneficial resource for those using medical marijuana, as the app will be offering various support groups and methods of connecting with other patients. Through these connections, medical users can share their own advice and perspectives while boosting spirits by offering encouragement to others.
With diverse cannabis backgrounds, co-founders Scott Bettano, Marsh Sutherland and Sonny Steele joined forces in 2014 with a vision of building a safe community for cannabis users to share their culture with like-minded individuals. As a former member of the marijuana black market, Bettano was seeking a way to transcend his knowledge of the cannabis community into the now legal marijuana industry; Sutherland, heartbroken after losing his ex-wife and the mother of his children to cancer and angered that she was not given the opportunity to pair cannabis-infused treatment with her chemotherapy, sought to take his tech start-up expertise into the newly emerging cannabis marketplace; Steele's relentless search to get his son the medicine he needs after pharmaceuticals have failed, and now wants to help individuals like himself.
Marsh Sutherland is enthusiastic about the app's ability to move the industry forward and make a positive impact in the community. He states "Both recreational and medical cannabis use is inherently a social activity." [Therefore], "Social High is poised to become the premier social network app for the cannabis community. We have created a judgment-free social network allowing anonymous profiles, user ratings, disappearing chats, and a digital community to both share experiences and discover new cannabis knowledge from strain search and details, powered by Leafly"
Social High is sure to be a welcomed addition into the cannabis consumer community, as the sharing of knowledge combined with effortless communication will inevitably lead to elevated quality products and increased safety.
###
About Social High:
Launched in September 2015, Social High brings the cannabis community together through a digital platform designed to engage users through their favorite strains, interests, experiences and more. Powered by Leafly, users are able to interact with different strains and consumption methods by interacting with the experiences of other cannabis-enthusiasts in their area and beyond. Social High also operates as a platform for medical marijuana users to connect, support and educate one another. You can download the app by searching "Social High" in the Google Play and Apple App Stores.