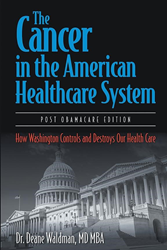 This important book on healthcare will answer some of the most pressing questions we have today on our nation's health.
(PRWEB) January 07, 2016
"A cancer is devouring America's healthcare system. Is there a cure?," asks author Dr. Deane Waldman. His answer? "Expecting Washington to fix healthcare is like waiting for cancer to cure cancer."
Americans are confused and scared about their healthcare. What can be done about it? Reading Dr. Waldman's new book provides a better understanding of the issues facing America's healthcare system and includes:

Why healthcare is less affordable and less available.
Where the trillions of "healthcare" dollars are going.
Who the real bad guys are.
Why Obamacare can't help.
How to regain control over personal health care.
Watch the video at: https://www.youtube.com/watch?v=V8J-6qtxk50&feature=youtu.be
Praise for the author's multiple award-winning book "The Cancer in Healthcare" (2012) comes from Dr. Jane Orient, former president of the Association of American Physicians and Surgeons, who said, "Easy, entertaining read, will make the Bad Guys squirm. Dr. Waldman's style is lively and lucid, and the book is packed with facts. It is not just another boring recital of platitudes. His real life examples leave no doubt as to how absurd and sick the system is."
"This important book on healthcare will answer some of the most pressing questions we have today on our nation's health. We are thrilled to announce its release," said Robert Fletcher, CEO of Strategic Book Publishing and Rights Agency.
About the Author: Dr. Deane Waldman, MD and MBA, has consulted for hospitals, public and private organizations, and governments. He combines the tools of management, especially systems analysis, with principles of good medical practice to diagnose and treat sick systems including healthcare. Dr. Waldman has been the chief of pediatric cardiology at Children's Hospital of San Diego, the University of Chicago, and the University of New Mexico. He is professor emeritus of pediatrics, pathology, and decision science at the University of New Mexico, and serves as consumer advocate member on the Board of Directors of the New Mexico Health Insurance Exchange, for which he advises on public policy.
For more information, contact Barbara Miller at barbara(at)worldwidepublicity(dot)guru.
THE CANCER IN THE AMERICAN HEALTHCARE SYSTEM: HOW WASHINGTON CONTROLS AND DESTROYS OUR HEALTH CARE (ISBN: 978-1-68181-381-3) is now available for $19.95 and can be ordered through the publisher's website:
http://sbprabooks.com/DrDeaneWaldman or at Amazon.com or Barnesandnoble.com.
WHOLESALERS: This book is distributed by Ingram Books and other wholesale distributors. Contact your representative with the ISBN for purchase. Wholesale purchase for retailers, universities, libraries, and other organizations is also available through the publisher; please email bookorder(at)sbpra(dot)net.