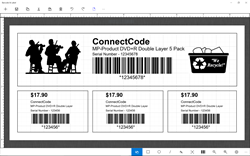 Barcode & Label embraces Microsoft's Universal Windows Platform (UWP)
(PRWEB) January 12, 2016
ConnectCode, a world leading provider of barcode software and fonts, today announced the release of a new version (v10.8) of ConnectCode Barcode Software and Fonts. This version introduces a fully updated Windows Store app, Barcode & Label, that embraces Microsoft's Universal Windows Platform (UWP). By adopting Microsoft's Universal Windows Platform, Barcode & Label can run on PCs, tablets, phones, internet of things devices and the Xbox One consoles. This version targets PCs and tablets with mobile version to be released when Windows 10 Mobile is widely available worldwide.
Barcode & Label is a popular and free Windows Store app that is designed from the ground up to ease label creation and barcode printing. It comes with a huge label stock database for creating Address Labels, Price Labels, Inventory Tags and Business Cards. The app contains many advanced features such as WYSIWYG designer, Excel spreadsheet integration, modern label layout, People's app contacts import and serialized running number; all these features are only found in industrial strength label software. Barcode & Label works hand-in-hand with ConnectCode's award-winning barcode fonts engine. The engine generates barcodes using fonts and allows high quality barcodes that meet the strictest auto-id requirements, to be created and printed.
Barcode & Label can be downloaded from the following :
Barcode & Label Windows Store Universal app
Existing users of ConnectCode Barcode Fonts and Software can import their barcode fonts into the app by following the tutorial below:
Import Barcode Fonts into Barcode & Label
Besides the Universal Barcode & Label app, ConnectCode Barcode Software and Fonts package also supports the creation of barcodes on a wide variety of platforms and tools such as Microsoft Excel, Access, Word, Office 365, Crystal Reports, Adobe Illustrator/Photoshop, SQL Server, Reporting Services, .Net DLL, MFC (Microsoft Foundation Class), Javascript, Typescript, jQuery, Oracle PL/SQL, Command Prompt, Microsoft Azure, and PNG Image Generator. A silent installer is also available on request, for customers deploying to the enterprise.
A Mac version of the barcode fonts is also available for companies on a mixed environment that uses both Windows and Mac.
System Requirements
Windows 7, Windows 8, Windows 10
Windows Server 2003, 2008, 2012 or 2016
256 MB RAM
100 MB of Hard Disk space
The Barcode & Label app requires Windows 8.0/8.1
The Universal Barcode & Label app requires Windows 10
Email
info@barcoderesource.com
Website
http://www.barcoderesource.com
Product Information
http://www.barcoderesource.com/barcodefont.shtml