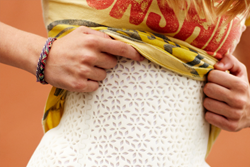 "It's an important recognition of the work we are doing [at UNYQ] to take the power of consumer technology and apply it to the improved treatment of medical conditions."
San Francisco, CA (PRWEB) January 06, 2016
UNYQ, the pioneer in personalized prosthetics and orthotics, today announced its state-of-the-art scoliosis brace, developed in partnership with 3D Systems, has received the coveted CES Innovation Award. The award honors outstanding design and engineering in consumer technology products.
The UNYQ Scoliosis Brace uses 3D printing and biosensors to create a new brace that is low profile, breathable and now trackable, both by the wearer and by their clinical support team.
"Receiving the CES Innovation Award is a true honor for us," says Eythor Bender, CEO of UNYQ. "It's an important recognition of the work we are doing to take the power of consumer technology and apply it to the improved treatment of medical conditions."
More than 3 million cases of scoliosis are diagnosed each year in the U.S. alone. The condition results in a curving of the spine in the side-to-side direction. The most widely recognized treatment in the medical community relies on bracing at least 13 hours per day to avoid an invasive spinal fusion surgery. However current braces are perceived as uncomfortable and unappealing, making compliance with bracing the biggest hurdle to successful treatment.
"We are very excited to have won this award for this life-changing brace," says Cathy Lewis, Executive Vice President and Chief Marketing Officer, 3D Systems. "It's an incredibly powerful example of how our 3D technology can transform the treatment of a serious medical condition."
The UNYQ Scoliosis Brace is on display at the 3D Systems booth located at TW, Sands, Level 2, Booth #72721. Bender will present UNYQ's work to redesign prosthetics and orthotics at the 3D Systems booth on January 7th at 5pm.
About UNYQ
UNYQ is redesigning prosthetics and orthotics using 3D printing, digitalization and data to create personalized devices that patients want to wear and enable clinicians to provide better care. To learn more about UNYQ, its Hub Network and complete line of 3D printed prosthetic covers and scoliosis braces, visit http://www.unyq.com.