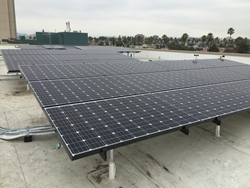 The solar systems designed by Promise Energy significantly offset the building's natural gas and electricity consumption, reducing operating expenses for the property.
Los Angeles, California (PRWEB) January 07, 2016
Vermont Manzanita is a newly constructed 40-unit affordable housing complex located in Koreatown in Los Angeles, CA, which will provide safe affordable housing to low-income residents. The project is notable for being one of only a few multifamily affordable housing projects awarded LEED Platinum certification, the highest sustainability ranking from the US Green Building Council. The LEED Platinum status was achieved, in part, thanks to the Solar Water Heating and Solar Photovoltaic systems designed and installed by Promise Energy.
Developed by non-profit West Hollywood Community Housing Corporation (WHCHC) and built by Dreyfuss Construction, the building was designed by Los Angeles based architecture firm Hatch-Colasuonno Relativity Architects, with energy consulting services provided by Green Dinosaur.
"WHCHC is very grateful to the teams that helped Vermont Manzanita achieve LEED Platinum. The solar systems designed by Promise Energy significantly offset the building's natural gas and electricity consumption, reducing operating expenses for the property. These solar systems, along with the other sustainability measures installed onsite, will help our tenants enjoy the benefits of living in a healthy, affordable environment for years to come, said Jesse Slansky, Director of Real Estate Development at WHCHC.
Working closely with the design and construction teams, Promise Energy engineered and installed an 18 collector Solar Water Heating system, and a 15 Kilowatt solar photovoltaic system. The Solar Water Heating system in particular was instrumental in getting the project to perform 33.6% better than code, which helped earn 23.5 points in the Energy & Atmosphere category and push the project from Gold to Platinum status.
"This was no small effort, and required great attention to detail at all levels and during all phases," said Tim Kohut, LEED Project Manager at Green Dinosaur. "Our original aim was for LEED Gold, but with an enthusiastic team, we were able to make the push to Platinum with 81.5 points. In addition to solar water heating, other energy efficiency measures on the project include drought tolerant planting, high efficiency plumbing fixtures, elimination of turf, implementation of smart-control technology, and stormwater quality measures."
"The solar photovoltaic system here will produce 23,000 kilowatt hours annually, saving the project over $100,000 in electric bills over the next 25 years, while the solar water heating system will offset 65% of the natural gas otherwise required to heat water each year, avoiding emissions equivalent to the burning of over 140 tons of coal," said Adam Boucher, CEO of Promise Energy. "This is a not only a win for the environment, but a strong example of affordable, sustainable housing for the young families living at Vermont Manzanita."
About West Hollywood Community Housing Corporation:
WHCHC's mission is to develop safe, decent and affordable housing for people with limited income, including those with special needs, which enhances the community and supports economic diversity. We envision sustainable communities of healthy, diverse neighborhoods within the greater Los Angeles area.
About Promise Energy:
Promise Energy Inc, is a full-service solar solutions provider, delivering integrated financing, design and installation for multifamily and commercial projects throughout California and the Western United States. Promise Energy partners with building owners and residents to save energy, and reduce operating expenses with solar water heating and solar photovoltaics. The company has provided solar solutions for over 4000 units of affordable housing across Southern California; as well as designing solar and net zero energy solutions for market-rate housing and commercial projects. Promise Energy recently opened an office in Hawaii to help residents battle the nation's highest utility costs. To find out more, contact us at http://www.PromiseEnergy.com.