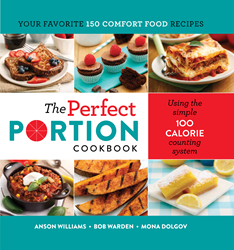 "Once we understand what portion sizes are and the calories within them, we can confront obesity and overeating," said Happy Days star and director Anson Williams, co-author of The Perfect Portion Cookbook
Boston, Mass. (PRWEB) January 07, 2016
Butter, cream, cheese. What's not to love? Inspired by Happy Days TV star and director Anson Williams' own challenge to remain healthy, fit and energetic at the remarkable age of 65, comes The Perfect Portion Cookbook. It is a first-of-its kind, food-loving guide that tackles the timeless question of how much to eat with a simple idea of a 100-calorie counting system applied to the best-loved American comfort foods. Two years in development and many meatloaves later, co-writers Bob Warden, a New York Times best-selling cookbook author and Mona Dolgov, a top nutritionist have made over 150 guilt-free recipes from mac & cheese to lasagna that are clearly shown in simple 100-calorie portion servings. Without worry, consume what you want, in the portion that is right for you. The Perfect Portion Cookbook is available for pre-sale ahead of its February 7 launch on QVC.
"It's not always what you eat that is the problem, but the decisions on both how you eat and how much you eat," said Dolgov, a nutritionist and recipe developer of thousands of on-trend recipes in the food products industry. "The Perfect Portion Cookbook helps you find joy in your favorite comfort foods and safe harbor away from processed and empty calories with culinary tips and nutritious tricks like better-for-you ingredients that are positive steps toward a healthier lifestyle."
With well-loved perennial favorites like apple turnovers, chicken pot pie and chili to game day appetizers of flatbread pizza, sweet & sour meatballs and Maryland crab cakes, each recipe denotes the suggested serving size. Soup ladles, ice cream scoops and slices help visualize and measure meals in 100-calorie increments. Single 100-calorie portions may serve as snacks, while 400 to 600-calorie portions of protein, veggie and sides make an ideal dinner serving. For example, The Perfect Portion Cookbook's Quiche Lorraine has 12 slices and each slice is 100-calories. The recommended breakfast portion is 2 slices, or 200 calories.
Readers will enjoy:

150 simple and enjoyable recipes
7 days of perfect portion meal planning
10 recipe chapters, spanning breakfast and casseroles to seasonal favorites and desserts
10 secrets to staying fit and healthy, including exercises that burn 100 calories
Tips for 100-calorie smart snacks
"I'm passionate that our daily go-to-eating guide and its 100-calorie counting system, similar to supermarket 100-calorie snack packs can optimize health and happiness," said Anson Williams, who served as chief tasting officer. "Once we understand what portion sizes are and the calories within them, we can confront obesity and overeating."
PUBLICATION INFORMATION
Title: The Perfect Portion Cookbook
Pages: 353, Four-color
Retail Price: $29.95
Where to Buy: Available for pre-order for $19.96 on QVC.
Additional information, recipes and interviews available upon request.
About Partners in Publishing: Located in Boston, Mass. and specializing in the cookbook market, the executive team of Bob Warden and Mona Dolgov each boast more than 30 years of experience as chefs, nutrition experts, TV stars, and direct response marketers in the food and housewares category. Their company, Partners in Publishing, offers a five-star experience combining dream teams of talented chefs, nutritionists and marketing staff who collaborate to deliver delicious and compelling recipes, guides, tips and nutrition information.