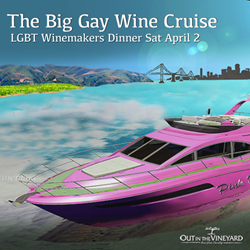 "There are very talented gay and lesbian winemakers creating INCREDIBLE wine." - Mark Vogler, co-founder, Out In The Vineyard
Sonoma, CA (PRWEB) January 06, 2016
Out In The Vineyard, the world's only LGBT luxury wine event and tour company, is pleased to announce a one of a kind experience, The Big Gay Wine Cruise, an LGBT Winemakers Dinner food and wine event.
The Big Gay Wine Cruise sets sail on Saturday, April 2, 2016 where local LGBT Winemakers will be pouring their wines paired with the amazing cuisine of the Hornblowers executive chef..
This evening, promises to be an adventure like no other on the San Francisco Bay, aboard the famous Hornblower Cruise Ship. As the boat departs, guests will enjoy a four-course menu paired with wines from LGBT winemakers. This year features some of Sonoma and Napa's most exciting "OUT" LGBT winemakers.
"Winemaker dinners are nothing new, but by featuring gay winemakers, we're kicking open the closet door and connecting the LGBT wine-loving community to the wine business, which has traditionally been considered an agricultural industry, where, there are, of course, "no gays". Guess again." says, Out In The Vineyard co-founder, Mark Vogler. "There are very talented gay and lesbian winemakers creating INCREDIBLE wine."
Our winemakers on the boat will be Kurt Guisti of Via Guisti Wines,; Russian River, Michael Kobler of Kobler Estates,; Healdsburg, Lloyd Davis of Corner 103; Sonoma and Richard Sowalsky of Clos Pegase; Napa Valley.
Guests will be greeted with a glass of the 2012 Iron Horse Rainbow Cuvee. This will be the official release of this new vintage that celebrates Equality and Love.
Get ready to set sail and for a memorable evening filled with adventures with Out In The Vineyard as we cruise the San Francisco Bay.
What: The Big Gay Wine Cruise – an all Gay Winemaker Dinner
A new Four Course Menu prepared by the Executive Chef of the Hornblower
and paired with wines by LGBT Winemakers
Where: On board the Hornblower Cruise Ship
When: Saturday, April 2, 2016
Time: Iron Horse Sparkling Wine Reception at 7:00pm
Boat Departs Dock at 7:15pm
Cruise around the Bay
Boat Returns by 10:30pm
Tickets: $175 /person
Reservations can be made at http://www.OutInTheVineyard.com/events
For further information call Mark Vogler at 707-591-1800
About Out In The Vineyard
Out In The Vineyard is an experiential Wine Country Event and Travel Company promoting positive LGBT lifestyles and offering exclusive, luxury itineraries and events in Wine Country for the discriminating gay traveler and their friends.
http://www.outinthevineyard.com