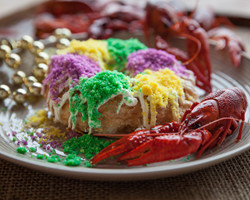 I'm very excited to introduce this new menu item.
Covington, LA (PRWEB) January 06, 2016
What's better than a sweet and colorful king cake? How about a warm and savory crawfish king cake inspired by the tastes, colors, and traditions of Mardi Gras? That's exactly what you will get at Mugshots Grill & Bar in Covington, LA.
Mugshots' savory puff pastry is filled with a creamy blend of peppers, onions, garlic, crawfish, shrimp, and pepper jack cheese. It is then baked and topped with sour cream and colored parmesan cheeses. This king cake, not exactly the traditional king cake that most taste buds are accustomed to, is a signature dish by Eileen Bennett, Corporate Chef for Ain't Life Grand Investments, LLC.
"I'm very excited to introduce this new menu item to our Mugshots' customer base." said Chef Eileen. "I have been serving these king cakes at my mother's Mardi Gras parties for almost 20 years now. Having the opportunity for my dish to be served to our loyal customers in multiple restaurants across 3 states is both exciting and humbling."
Ain't Life Grand Investments, parent company of Mugshots Grill & Bar, and it's nonprofit organization, Making Life Grand, have partnered with Northshore Families Helping Families. They will donate a portion of all Savory Crawfish King Cake sales to support the NFHF's vision of ensuring all individuals with disabilities have equal opportunities to be educated, live, work and recreate in their own communities.
Mugshots' Savory Crawfish King Cake will be available at their Covington location starting on Wednesday, Jan. 6, (Twelfth Night), through Mardi Gras, Tuesday, Feb. 9.