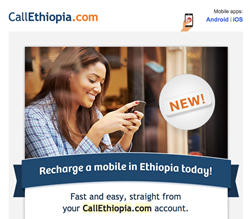 "Hello, I just wanna tell you how happy I am with you guys! Thanks for your best service!" (Amakelech Gebreyes via Customer Service)
Atlanta, Georgia (PRWEB) January 08, 2016
CallEthiopia.com recently introduced the online Mobile Recharge service for all Ethiopian expats willing to support their relatives and friends back home with mobile credit. This new service is a pair service to Voice Credit for international calls offered by CallEthiopia.com. For the moment, the website facilitates top ups to mobiles pertaining to Ethio Telecom in Ethiopia, but soon more networks will be added per customer feedback. The Mobile Recharge service helps one make a top up in few seconds due to its simple online process: https://callethiopia.com/buy/mobile_recharge
The mobile credit to a number in Ethiopia will be sent from one's CallEthiopia.com account. The amount gets to the destination number in Ethiopia instantly. Also, since the purchase is made online, that saves one time and effort. Many expats, for example, use the online top up to spare their parents or grandparents or other older relatives of going out to the store to refill their mobiles. Others use the Mobile Recharge service to send a mobile credit gift without any hassle.
It is important to remember at least three things about the service, that makes it stand out on the international market:

The registration on CallEthiopia.com costs nothing
There is no contract needed in order to complete a transaction
It is 100% safe since the service is certified by "Verified & Secured"
Top ups can be made easily from both the PC and smart device, since CallEthiopia.com is a mobile-friendly website, in 3 simple steps:

One needs to open an account on CallEthiopia.com or log into one's account if already registered on the website.
Go to the online form and choose the amount to be sent as Ethio Telecom credit:
Click "Continue" and proceed to payment; one can use any major credit or debit card as well as a Paypal account.
Ethiopian expats enjoy CallEthiopia.com for several reasons as they mention on review platforms:

Transactions are 100% safe; the service bears the label "Verified & Certified"
Paypal payment is accepted besides all major cards, no matter the currency or country of the customer.
The service is among the easiest to use on the global market.
There are regular promotions that are sent by email.
The "Support" team is highly responsive and kind, as well as available 24/7; they can assist one in several international languages.
Customer privacy is highly valued on CallEthiopia.com (TRUSTe label)
Besides international top ups of mobiles in Ethiopia, CallEthiopia.com has extensive experience of over 10 years with international calling. The website offers Voice Credit for calls at competitive rates as low as 19,9 cents/minute. Extras include Thank You points for future free calls, free features, KeepCalling app for calls from smartphones, 24/7 quick and responsive customer support.
About CallEthiopia.com
CallEthiopia.com is an interactive website designed by KeepCalling, a global telecommunications company registered in 2002 in USA. Presently, KeepCalling provides its services to hundreds of thousands of consumers and businesses, with a focus on customer satisfaction. KeepCalling has been listed by Inc 5000 as one of the fastest growing companies in the USA for 5 consecutive years. In 2015 the company registered a revenue increase of over 200% from 2011 to 2014.