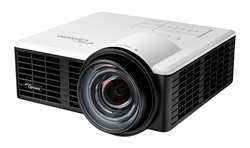 Las Vegas, Nevada (PRWEB) January 07, 2016
Optoma announced the latest addition to the ultra-portable LED projector series and is featuring it in their booth #11440 in the Central Hall. The new ML750ST, builds upon the popular ML750 and has been engineered with a short throw lens to make it even more flexible for meetings and presentations on-the-go.
Optoma's Senior Director Product Management, Jon Grodem, said: "We are proud of our innovation and leadership position in the LED category and with the addition of a short throw lens option in an ultra portable projector; we look forward to continuing and expanding that leadership role."
Weighing in well under a pound it has all the same features as the tiny ML750 including a media player, native office viewer and built-in speaker. The Mobile High-Definition Link (MHL) technology allows users to leave the laptop at home and display content directly from an MHL-enabled mobile phone or tablet.
HDMI input enables connection to the latest laptops, PCs, games consoles or Blu-ray™ players. Microsoft Office, Adobe PDFs, photos, videos and audio files can be projected directly from the built-in memory, microSD card slot and USB connection. This makes presentations without a laptop simple and straightforward.
With instant power on/off LED technology, the ML750ST is primed for instant plug-and-play viewing on the go. And the extraordinary life of LEDs (20,000 hours) will ensure it stays clear and bright for years to come.
Optoma invites you to Project your Passion in booth #11440 and see this portable powerhouse as it transforms a basic kitchen table into an intimate bistro for two and a family room with exciting interactive games for the whole family. The ML750ST can turn every surface in your home or office into something meaningful.
About Optoma
Optoma is a world leading designer and manufacturer of projection and audio products for business, education, professional audio/video and home entertainment.
Optoma's projection products combine superior image processing technologies with exceptional engineering and innovation to deliver stunning crystal clear images with ultimate reliability.
Optoma projectors use DLP® technology, pioneered by Texas Instruments. This uses millions of mirrors to produce high quality imagery which does not suffer color degradation over time, as sometimes experienced in other projector technologies.
The Optoma NuForce sound range is designed for people that care about audio. They are built from premium quality components to deliver sleek design and exceptional sound.
The Optoma Group has continental headquarters in the USA, Europe, and Asia.