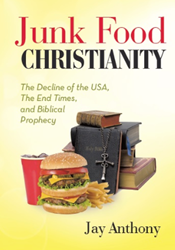 I see a potential relationship between the current direction of Christian denominations and the declining global influence of the United States
AUGUSTA, Maine (PRWEB) January 07, 2016
Is it possible that Americans are heading for the end of times and the signs are right in front of them? For author Jay Anthony, the answer is yes.
Anthony has been a member of the Episcopal Church for more than 40 years, and he has witnessed first-hand much of what he considers to be the decline of the United States and Western culture. Referencing the frequency and magnitude of modern disasters, Anthony believes that God is using these situations as warnings for those who choose to ignore or reject Biblically faithful living.
"I believe we are called to love and respect everyone and that God is patient," Anthony said. "However, I see many forces pulling us into isolation and hectic lives, be it work, technology or media. I believe many people lack the time and energy to contemplate important issues, like cultural values, and that needs to change."
In his new guide, "Junk Food Christianity: The Decline of the USA, the End Times, and Biblical Prophecy," Anthony identifies ways in which Americans have turned away from God and instead focus more on instant gratification and personal gain.
By drawing attention to how God historically dealt with humankind, Anthony seeks to encourage others to actively examine their lives through the filter of God's word. Anthony challenges readers to return to the roots of Christianity and think critically about the alignment and impact of their values, everyday practices and faith.
"I see a potential relationship between the current direction of Christian denominations and the declining global influence of the United States," Anthony said. "It's possible that the rising challenges of ISIS, Russia and others are related to God removing the United States from his protection, much like he did to ancient Israel. If so, we need to find a way to change."
For more information, visit http://www.lovingfaithful.com.
"Junk Food Christianity: The Decline of the USA, the End Times, and Biblical Prophecy"
By: Jay Anthony
ISBN: 978-1-49088-093-8
Available in softcover, e-book
Available on Amazon, Barnes & Noble and WestBow Press
About the author
Jay Anthony is a long-time member of the Episcopal Church. Anthony currently lives in Maine and spends his time volunteering or with local musical organizations.
# # #