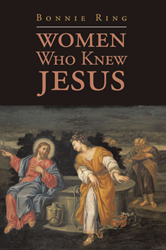 Jesus' acceptance of women, even those who were outcast or marginalized, speaks to the needs for recognition by women of color, the peoples of non-western nations, the disabled and immigrants today
SAN FRANCISCO (PRWEB) January 07, 2016
Religious texts highlight the stories of the men who followed Jesus, but what about the women? What was their experience, especially in a time of such societal restrictions?
In Bonnie Ring's new book "Women Who Knew Jesus," she presents an in-depth look at the various women from the New Testament Gospels that Jesus accepted and treasured and the lessons in faith and personal development that can be found in those stories.
"The life of Jesus cannot be fully appreciated without the women who interacted with him," Ring said. "The stories of Jesus' encounters with these women show us how Jesus treated women, how he spoke to those who had no voice, and how he touched the marginalized and oppressed. Healed, empowered, affirmed, and forgiven, he set them free."
Based on Ring's decades of experience in psychology and religion, including more than 20 years as an Episcopal priest, spiritual director and retreat leader, Ring's book parallels her own journey of faith and the inspiration and guidance she derives from the women's stories.
Through sharing the women's relationships to Jesus, Ring reveals the power of action, reflection and faith, especially in today's society where there is still discrimination and limitations on many groups of people.
"Jesus' acceptance of women, even those who were outcast or marginalized, speaks to the needs for recognition by women of color, the peoples of non-western nations, the disabled and immigrants today," Ring said.
For more information, visit http://www.womenwhoknewjesus.com.
"Women Who Knew Jesus"
By: Bonnie Ring
ISBN: 978-1-50492-925-7
Available in softcover, hardcover, e-book
Available on Amazon, Barnes & Noble and AuthorHouse
About the author
Bonnie Ring has worked for more than 40 years as a licensed psychologist and has spent more than 20 years serving as an Episcopal priest, spiritual director and retreat leader. Ring's extensive higher education background includes Vassar College, New York University, Boston University, UCLA and UCSF, in addition to her studies in theology. She currently offers psychotherapy, spiritual direction and retreat leadership through her own practice in Berkeley and Moss Beach, California. Ring lives in Moss Beach, California.
# # #