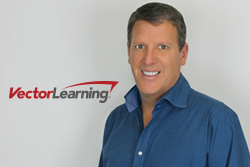 I am thrilled about the chance to join VectorLearning, as I believe the opportunities to grow here are tremendous
Tampa, FL (PRWEB) January 06, 2016
VectorLearning, the leader in eLearning and workforce training solutions for the architecture, engineering, construction (AEC), industrial and public safety fields, announced its appointment of Jeff Gordon as Chief Executive Officer this week.
"I am thrilled about the chance to join VectorLearning, as I believe the opportunities to grow here are tremendous," said Gordon. "The future of eLearning excites me as technology continues to change the landscape of how people learn in both formal and informal settings. There is real potential to build and innovate upon the success already achieved by VectorLearning."
Gordon has spent his career driving real-time intelligence solutions that enable growth for businesses. As a strong believer in customer focus, operational excellence and innovation, Gordon places tremendous value on employees, simultaneously coaching and challenging them to reach full potential. He also believes in rewarding those who have truly impacted the customer's success.
Gordon was a key member of the launch team for PCS PrimeCo, which became an integral part of today's Verizon Wireless. He also contributed to the growth of Convergys, then continued that success driving major revenue growth as the CEO of Syniverse. In addition, Gordon is the co-author of seven U.S. patents relating to real-time telecommunications architecture, as well as a past winner of the IBM Corporate Outstanding Innovation Award.
Gordon, a Tampa resident, believes strongly in giving back to the community and remains active in non-profit efforts supporting children, education and entrepreneurship.
Gordon has praised former CEO Tom Wallace, who led the company for over a decade, for building VectorLearning from the ground up and for securing such a strong leadership position in the eLearning space.
Tom Wallace will step away from his position, but he will remain part of VectorLearning's Board of Directors.
About VectorLearning
VectorLearning sets the standard for excellence in online continuing education and training for the architecture, engineering and construction (AEC) industries, as well as industrial and public safety fields, and holds more than 200 state, national and organizational accreditations. Through its brands RedVector and TargetSolutions, VectorLearning offers individual courses as well as and large-scale corporate training solutions for AEC, industrial and public safety teams via a state-of-the-art Learning Management System. With an online library exceeding 4,000 courses authored by more than 200 subject matter experts, VectorLearning serves professionals and firms across the globe. The recipient of numerous community honors and industry awards, VectorLearning was founded in 1999 and is headquartered in Tampa, Florida. For more information, call 1-866-546-1212 or visit http://www.VectorLearning.com.