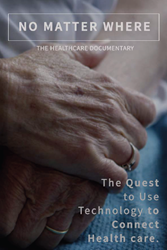 Indianapolis, IN (PRWEB) January 08, 2016
On Monday February 8, 2016, the Indiana HIMSS Chapter will be hosting a screening of an inspiring 76-minute documentary called "No Matter Where" at the Keystone Arts Cinema in Indianapolis. This film brings alive the concept of healthcare information exchange and its importance to effective and safe healthcare. To assume that doctors always have access to your medical information, no matter where it is needed, is wrong.
Your medical information may be trapped behind a closed door - unable to be retrieved when you are in the emergency room, or the victim of a natural disaster, or even when you are traveling. However, thanks to ordinary citizens exhibiting extraordinary tenacity, we have begun to witness a transformation in the healthcare system, where patient information is available no matter where it is needed. This transformation has been slow, at times painful, occasionally dramatic, unfortunately, traumatic to some, and not universally supported.
This documentary follows the journey of pioneers who have shepherded us into this era and provides a glimpse into the lives of patients, healthcare providers, advocates and adversaries from the public and private sectors. Follow a team of crusaders - doctors, nurses, widows, parents, and souses - working to fix this problem. There will be a panel discussion as well as food and drinks provided following the movie screening.
Date & Time: Monday February 8, 2016 from 6:00 PM to 8:00 PM EST
Location: Keystone Art Cinema & Indie Lounge
8702 Keystone Crossing
Indianapolis, IN 46240
To purchase tickets go to: http://indiana.himsschapter.org/
(includes entry into the screening plus popcorn and drinks)
Guests - $15 per person
Students - $5 per person - A student ID is required at the door to verify student discount.
About Indiana HIMSS Chapter
The Indiana Chapter of HIMSS is one of over fifty affiliated chapters of the Healthcare Information and Management Systems Society, the largest health care information systems professional organization in the nation. Our purpose is to bring health care professionals together to promote the exchange of experiences and knowledge among colleagues, and to assist members in their professional growth. We accomplish this objective by presenting educational seminars/conferences, networking opportunities, and a forum for the exchange of ideas among those committed to the goal of improving patient care through the effective use of information technology. Chapter members come from diverse backgrounds, all involved in some aspect of health care information systems and management. Our members consist of professionals from hospitals and clinical organizations, third-party payors, administrators, information technology vendors, consultants, management engineers, telecommunications professionals, physicians, nurses and medical informatics professionals – essentially anyone interested in the trends of health care information and management systems.