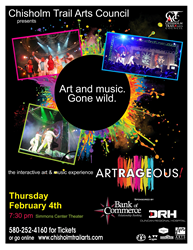 Duncan, OK (PRWEB) January 26, 2016
Rarely do you get a chance to experience some of the best things in life, together in one place."ARTRAGEOUS" is one such place - an interactive art and music experience not to be missed.
The performers who bring you "ARTRAGEOUS" have delighted Fortune 500 companies for years and now the Chisholm Trail Arts Council is bringing this experience to Duncan. Paint jumps to life with amazing speed unveiling larger than life art in just moments. The evening is filled with music and images from Lennon, to Einstein to Bono. Delight in the fun of doing something with bubblewrap, or get a chance to be part of the painting experience.
The Chisholm Trail Arts Council's presentation of "ARTRAGEOUS" on February 4, 2016 at 7:30 pm is made possible through the generous support of Duncan Regional Hospital and Bank of Commerce.
Please contact Director Darcy Reeves at the Chisholm Trail Arts Council 580-252-4160 for further details or visit the website to purchase tickets! *Items will be for sale, raffle, auction prior to show and after show*. All proceeds to benefit the CTAC Live Concert Series.