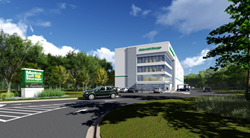 Lake Forest, IL (PRWEB) January 06, 2016
Metro Storage LLC today announced the acquisition of a former lawn and garden store in North Plainfield, New Jersey that will be converted to a state-of-the-art Metro Self Storage® facility. Located at 351 Route 22 in Plainfield, New Jersey, the building will be developed into a contemporary, five-story, 100% climate controlled self storage facility offering 65,000 RSF of storage.
Located in a highly populated, strong median income market, the store is located near major retailers and several new residential developments on a highly traveled thoroughfare.
"This is an excellent location and outstanding opportunity for us." said Metro Storage LLC Chairman Matt Nagel. "We're looking forward to expanding the Metro presence in the New York/New Jersey market."
The existing two-story structure will be repurposed and transformed into a five-story, climate controlled storage facility with 653 storage units. The new design will include a large interior loading area and multiple other entrances around the building. In addition, the store will feature multiple elevators, state of the art security, and a large modern business office.
"This is another great design by our Development team." said Blair Nagel, CEO of Metro Storage LLC. "It has all the elements to meet the storage needs of the surrounding community."
Construction on the new store is scheduled to begin in March 2016.
About Metro Storage LLC
Metro Storage LLC is a privately owned, fully integrated, international self-storage operating company specializing in the development, construction, acquisition, and management of self-storage facilities in the USA and Brazil. Metro operates under the trademark Metro Self Storage in the US, being one of the top 10 largest owner/operators of self-storage facilities in the United States with over 100 stores covering 12 states. Metro operates in Brazil under the trade name MetroFit which is one of the fastest growing self-storage companies in Brazil. More information about the firm is available at http://www.metrostoragecorporate.com.