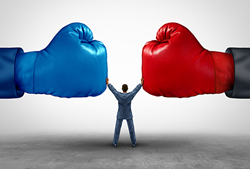 Rancho Santa Margarita, CA (PRWEB) January 11, 2016
Tip One: Respect Your Spouse As A Human Being.
MDP has seen enough divorce cases to realize that people cannot be judged on their worth as people in how they react to divorce. The emotional element involved can make it very hard for people to act rationally or be the 100-percent-best version of themselves. When dealing with each other through the divorce action, the company recommends empathizing with each other. Trying to ask oneself what they would do in their spouse's situation or separating the divorce-version from the person you once knew and loved can provide great insight, the company notes, while helping one to keep their own emotions in check.
Tip Two: Be Considerate Of The Other Person.
MDP knows that it can be hard to muster up consideration while in the throes of a painful and heated divorce, but the dust will eventually settle, and if two people are still bound by their children, then it can be easy to show consideration. Being willing to take the kids on short notice if something comes up, approaching a spouse well in advance for any changes of plans, and not trying to act like the other spouse doesn't exist when the children mention them, are all ways that you can be considerate of each other, the company notes. Also, acknowledging the value in some of the non-monetary contributions that a spouse made to your lives together can make a world of difference.
Tip Three: Not Going One-On-One In Situations That Could Potentially Become Heated.
MDP notes that peacemaking isn't about establishing a friendship with one's ex. The site freely admits that that may never be possible depending on the situation. However, the peace can be kept if one uses foresight to plan for potentially difficult meetings and situations. For example, the site recommends that if there is a lot of anger and rage, don't be present when the angered spouse comes to get their things. Instead it might be best to get a non-partial third party to watch as the spouse clears out their things. Planning for these difficult types of situations in advance can usually keep animosity from playing itself out in unhealthy ways.
MyDivorcePapers.com provides affordable divorce forms solutions for those looking to file for divorce. Paperwork can be completed and compiled in 45 minutes for immediate use.