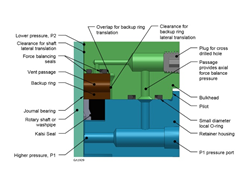 "Kalsi-brand swivel seals have a high modulus plastic inner layer for extrusion resistance, and an elastomer body that is radially compressed during installation." -- Lannie Dietle, Kalsi Engineering
Houston, Texas (PRWEB) January 07, 2016
Kalsi Engineering has introduced new swivel seal technology that significantly increases the pressure and speed capacity of rotary swivels, compared to other polymeric seals. This technology is applicable to both side entry and coaxial swivels, and can be configured to conduct fluids ranging from hydraulic fluid to abrasive process fluids.
The pressure and speed advantages of the new technology are the result of two key technical advances:

A laterally floating metal backup ring establishes the smallest practicable extrusion gap clearance for the swivel seal.
The swivel seal bridges the extrusion gap with a layer of highly engineered, extrusion-resistant thermoplastic that is hydrodynamically lubricated by an advanced hydrodynamic inlet geometry.
"Kalsi-brand swivel seals have a high modulus plastic inner layer for extrusion resistance, and an elastomer body that is radially compressed during installation," said Lannie Dietle, principal designer for Kalsi Engineering. "The liner is formed into an aggressive, patented hydrodynamic wave pattern. When the shaft rotates, the waves pump lubricant into the dynamic interface, causing the seal to hydroplane on a thin layer of lubricant."
This interfacial lubrication reduces seal operating temperature, allowing higher speed operation in high pressure conditions, and prolonging seal life. When rotation ceases, the pumping action stops, and conventional static sealing occurs. Previous wave forms were incapable of providing interfacial lubrication with typical swivel lubricants, such as the low viscosity hydraulic fluids encountered in hydraulic swivels.
The inherent pressure capacity of Kalsi-brand swivel seals is amplified when the seals are used with patent-pending, laterally floating backup rings. The seal and backup ring combination has been tested extensively at a PV of 1,900,000 PSI X SFPM, using a differential pressure of 7,600 psi and a surface speed of 250 SFPM. Tests as long as 1,000 hours have been performed in these conditions, with the seals remaining in excellent condition at the conclusion of testing.
Traditional rotary swivel designs employ relatively large extrusion gap clearance, to prevent heavily-loaded shaft-to-housing contact at the extrusion gap, and associated component damage and excessive frictional heat. The clearance required to prevent these issues is detrimental to high pressure seal operation. Internal pressure expands the housing, further increasing the extrusion gap clearance.
In contrast, the floating backup ring has a tight, journal bearing-type fit with the surface of the shaft, establishing the minimum practicable extrusion gap for the swivel seal. Ordinarily, such a fit would be detrimental to the seal, because metal-to-metal contact would generate destructive levels of heat. This is avoided by making the backup ring axially force balanced. The same pressure is applied to equal areas on the oppositely facing ends of the backup ring, resulting in zero net axial hydraulic force. This leaves the backup ring free to slide laterally to accommodate misalignment, lateral deflection, and runout of the shaft. A radial vent passage ensures that the backup ring is radially pressure balanced, eliminating pressure-related extrusion gap dimensional changes.
The bulkhead and retainer housings are simple annular components that stack together. The housings are aligned by a pilot region that is bind-proof due to its short length. This easy-to-assemble stacked housing arrangement is held together by a pattern of axial bolts. This simple stacked housing arrangement is appropriate for extreme pressure service in both side-entry and coaxial rotary swivels. The arrangement has been evaluated with a 4.5" shaft diameter.
About Kalsi Engineering
Founded in 1978, one division of Kalsi Engineering provides advanced rotary sealing technology, and the other provides mechanical engineering consulting services. The firm is located in Sugar Land, Texas, minutes from the Houston metropolitan area. More information about Kalsi-brand rotary seals and related technology is available at http://www.kalsiseals.com.
Kalsi Engineering
745 Park Two Drive
Sugar Land, TX 77478-2885
281-240-6500
seals(at)kalsi(dot)com