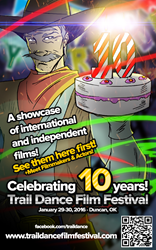 Duncan, OK (PRWEB) January 19, 2016
The goal of Trail Dance Film Festival is to promote the growing film industry in Oklahoma, encourage originality and creativity, and provide a media-arts scholarship. While celebrating it's tenth anniversary, Trail Dance Film Festival will feature over 130 international and independently produced films from all over the USA, India, Germany, Spain, Canada, Italy, and Japan to name a few.
Films at Trail Dance span a range of genres including Comedy, Drama, and Documentary. Many films include such known actors as Missi Pyle, Robert Costanzo, Daniel Roebuck, Eric Roberts, Barry Bostwick, Doug Jones, and more.
Festivities are open to the public and include live entertainment, professional seminars, networking opportunities and more at their three venues, the Simmons Center, Chisholm Trail Heritage Center and Palace Twin Theatre on Main Street Duncan. The festival concludes with a Grand Awards Gala, featuring live entertainment, where the all new 24K gold plated Golden Drover, weighing a hefty 10lbs at 13inches tall, is presented to worthy filmmakers, and one lucky student is awarded a scholarship to pursue a career in filmmaking.
Trail Dance Film Festival has been recognized by leading national publications as one of the "Top 25 Coolest Film Festivals" as well as "Top 25 Film Festivals worth the fee". Other Trail Dance Accolades are 2007 Official Oklahoma Centennial Event and Outstanding New Event at Governors Conference on Tourism, 2008 Top 25 Film Festivals worth the Fee - MovieMaker Magazine, 2009 Top 25 Coolest Film Festivals - MovieMaker Magazine, 2010 Merit Award Best Website - Governors Conference on Tourism and 2011 Top 25 Coolest Film Festivals - MovieMaker Magazine.
Passes range from $8 to $40 and weekend pass holders are invited to the Kick-Off Party on January 28th. To purchase passes visit http://www.traildancefilmfestival.com or plan to buy at the door. Visit Trail Dance on Facebook at http://www.facebook.com/traildance.
For general inquiries about Duncan, visit http://www.visitduncan.org or call 1-800-782-7167.