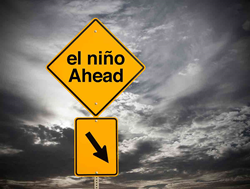 It's not too late to get flood insurance for this year.
Cerritos, Calfornia (PRWEB) January 19, 2016
There's been a lot of hype about El Niño, yet it looks like property owners have taken heed. According to the Insurance Journal, Californians have purchased 28,000 new flood policies from August to November of last year.
Most property owners have a homeowner insurance policy (or renter or condo insurance) to protect their property. However, it's important to know that water or flood damage is NOT covered by a standard homeowner's policy. A specialized flood insurance policy is needed to ensure protection of these assets.
Why is flood insurance important (even for those not in flood zones)? Some facts to consider:

According to Floodsmart.gov, the average flood loss is $38,000
Nearly 25% of claims come from areas that are not considered to be high risk
Less than 50% of floods are declared federal disasters, which is required for federal disaster aid
There is a waiting period before a flood insurance policy goes into effect (typically 30 days) - so don't wait!
Flood insurance policies are underwritten by the National Flood Insurance Plan (NFIP) and are available only in participating communities through insurance companies and agents. The pricing is the same regardless of where purchased from, so consumers should look for a licensed and trustworthy agent who can advise them on what coverage levels are needed.
"We saw our flood insurance business more than double in 2015 ," said Mark Ribisi, President and CEO of Auto Insurance Specialists, a national agent that provides auto as well as flood and property insurance. "With the low incremental cost of a flood policy, we recommend our customers secure this affordable and meaningful protection for the homes and goods their families rely on."
Important Questions About Flood Insurance:
Do all communities participate in NFIP? Check here for a list of participating communities.
How much does home flood insurance cost? Flood insurance for a home may cost around $200 a year, getting more expensive in high-risk areas.
What about condos or apartments? Flood insurance is also available to condo owners and renters. Contents coverage is available when the property is not owned by the policyholder.
Here are a few other possible insurance gaps consumers should ask their agent about:
Water backup damage: Most flood and basic property insurance policies do not cover water backup damage. This type of damage is typically caused by water that overflows from a sump pump or backs up through sewers or drains.
High Value Property: Most property insurance has limits on valuables such as fine arts, jewelry, ornamental rugs, etc. These items need to be added to a policy specifically to be covered.
Vehicle Coverage: To ensure car insurance covers flood and water damage, drivers need more than their state's minimum liability insurance requirements and should include comprehensive coverage on the vehicle, which can cover damage caused by hail, water, and floods in some cases.
With predictions of more storms on the way, it's recommended to secure flood insurance. Reputable agents offer free flood insurance quotes.