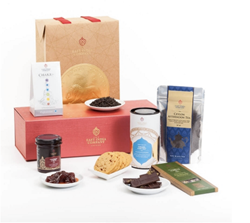 New York, NY (PRWEB) January 07, 2016
The East India Company introduces a range of chocolates, chocolate enrobed fruits and nuts and exotic teas to celebrate Valentine's Day. These exclusive gifts can be found at select Neiman Marcus stores throughout the US and online at their newly updated website. Each one of these delicacies are fit for an Emperor or Empress, The East India Company's passionately crafted selections will elevate gift giving to a new level.
Rediscover chocolate's earliest hold on the senses through a wickedly enchanting chocolate selection. Fine fruits, coffee beans, citrus peels and nuts enrobed in rich chocolate, along with chocolate thins, chocolate bars and drinking chocolate will enhance new flavor sensations created with the skill and imagination of expert chocolatiers. And the tales of tea and The East India Company are deeply intertwined. First introduced by The Company to Britain as a gift to the King in 1664, tea soon became an inseparable part of British culture. Today, this meticulously curated tea library offers over 120 varieties to satisfy curious minds and connoisseurs alike.
The East India Company made a wide range of elusive and exotic ingredients familiar, affordable and available to the world. Today they continue to develop innovative products that breathe life into the history of the Company. They trade foods crafted by artisans and specialists from around the world, with carefully sourced ingredients, unique recipes and distinguished provenances.
About The East India Company
Since its creation in 1600 by The Royal Charter granted by Queen Elizabeth I, the influence of The East India Company has been extensive. It influenced Britain's dining tables through the introduction of tea, coffee, chocolate, and spices, but more fundamentally, it changed the world's tastes, its thinking, and its people. It created new communities, trading places, cities and shaped countries and commercial routes.
The East India Company's Fine Foods range today includes over 140 teas, coffees, biscuits, jams and marmalades, mustards, sweets, chocolate bars and boxes, gift sets, luxury hampers and accessories. The Company now has seven UK stores (Conduit St, Covent Garden–Long Acre, Covent Garden Piazza, The Royal Exchange, Westfield London, Bluewater-Kent and a concession in Harrods) in addition to its three stores in the Middle East (Kuwait, Qatar, UAE). The Company is represented globally through Duty Free (Vienna, Frankfurt, Doha), major retailers including Selfridges in the UK, Bijenkorf in Amsterdam, David Jones and Thomas Dux in Australia, Shinsaegae in South Korea, Dean & Deluca in Thailand, Takashimaya (Singapore & Japan), Queen's Isetan, Mitsukoshi and Meida-ya in Japan.