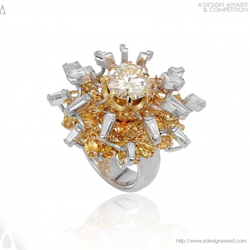 Como, Italy (PRWEB) January 07, 2016
International A' Design Award and Competition is pleased to inform that the Big Bang ring created by Nicola Botta has been announced as a winner of the Golden A' Design Award in Jewelry Design Competition Category.
About Big Bang
Nicola Botta, the designer of the awarded ring design Big Bang, explained, "The ring represents the image of the 'big bang...' a circle placed in the middle and sparks around it. The beryls represent the core of the explosion, a central diamond and trapezoid-cut diamonds represent the particles radiating towards the universe. The stones are placed on two different levels to give a sense of the explosion, the outward movement and depth and the external stones are left more free." Learn more and download high-resolution photos at: https://competition.adesignaward.com/design.php?ID=37475
The Golden A' Design Award
The Golden A' Design Award is a prestigious award given to top 3% percentile designs that have accomplished an exemplary level of quality in design. Entries to the Watch design awards are voted on predetermined evaluation criteria such as functionality, ergonomics, engineering, presentation, innovation, usability, fun details, and technology by a grand jury panel consisting of design scholars, media members and professionals. Laureates of the A' Design Award & Competition are granted a series of PR and publicity tools such as access to Design Mediators and Design Mega Store to celebrate the status of winning the accolades. Entries to the A' Design Award and Competition are ongoing and results are announced annually on April 15. Award winning designers are invited to attend the gala-night in Italy to collect their trophies, yearbooks and certificates.
About A' Design Award and Competition
Since its foundation in 2009, The A' International Design Award and Competition has been highlighting the excellent qualifications of best designs, design concepts and design-oriented products worldwide. The A' Design Award and Competitions are organized and awarded annually and internationally in multiple categories to reach a wide, design-oriented audience. The ultimate aim of the competition is to push designers, architects and brands worldwide to create superior products or projects that benefit society. Learn more at: http://www.whatisadesigncompetition.com