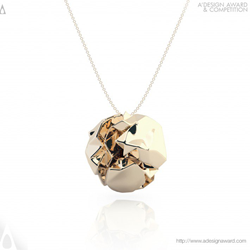 Como, Italy (PRWEB) January 06, 2016
Today, A' Design Award and Competition announced that the pendant design project Skraep by Steven Yang Avis has been granted a Golden A' Design Award in Jewelry Design Competition Category.
Insights on Skraep
Steven Yang Avis, the lead designer of the awarded Jewelry project Skraep demonstrated "Luxmea's Skræp transforms the materiality and formality of a crumpled scrap paper into a charm/pendent by combining digital modeling, 3D printing and traditional lost wax jewelry making techniques. The digital model calculates the structural complexity of crumpled paper and the flow of palm-force while stimulating the chaotic interactive process, thus making each outcome unpredictable and unique. The use of precious metal creates a contrast between futility of scrap paper and luxury, thus giving it a proud new identity to it with an intimation of uselessness." Learn more about this design: https://competition.adesignaward.com/design.php?ID=39803
Design Team for Skræp
Skræp was imagined by Steven Yang Avis and Luxmea Studio
The Golden A' Design Award
The Golden A' Design Award is a prestigious award given to top 3% percentile designs that has exhibited an exemplary level of excellence in design. The designs are judged by a grand jury panel of designers, press members and academics who score entries based on their functionality, ergonomics, engineering, presentation, innovation, usability, fun details, technology, and any other specific points that could be considered. Laureates of the A' Design Award and Competition are granted a series of PR and marketing services such as an article feature at DZGN Design Blog, inclusion in World Design Rankings and World Design Index as well as physical exhibition of awarded projects in several countries.
About A' Design Award and Competition
A' Design Award and Competition aims to highlight the best designs, design concepts and design oriented products worldwide in order to create a global awareness for good design practices and principles. A' Design Award and Competitions are organized and awarded annually and internationally in wide array of categories in order to bring different stakeholders in the design and manufacturing industry together. Learn more about A' Design Awards at: http://www.whatisadesignaward.com