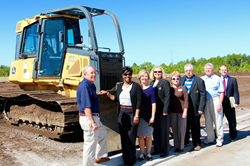 New Medical Care Facility in Coastal North Carolina
Wilmington, North Carolina (PRWEB) January 07, 2016
Brick by brick, a new medical complex on Middleton Road is nearing completion near the entrance to St. James Plantation in Brunswick County, North Carolina. Real Estate Scorecard attended the ground breaking ceremony in October along with dignitaries and the local community. The two-story, 26,000-square foot clinic is expected to open in the fall of 2016. It will be home to outpatient services including primary care, cardiology, cardiac rehabilitation, physical therapy, x-ray, primary care and rotating specialists. The new medical facility catering to retirees and families is another reason why this area is home to one of the best coastal towns in North Carolina.
The $6 million project is financed by Dosher Memorial Hospital, St. James and Summit Healthcare Group. After the initial construction phase is completed, Dosher, known for its caring medical staff, will invest another $1.9 million to equip the facility for the specific wellness services offered. The goal of the clinic is to provide primary health services to people living in the surrounding areas.
Access to top-notch health care is now one of the many benefits of living in the south. Those longing for a worry free Wilmington NC retirement can add a state-of-the-art medical facility to the long list of perks for one of the best coastal towns in North Carolina. The medical complex is located near St. James Plantation, a gated waterfront community located on the Intracoastal Waterway. With Wilmington so close and the ocean in close proximity, St. James residents experience the best of suburban, city and beachfront living.
St. James Plantation is a gated community defined by marine life, fitness and family fun. It is a popular area for families looking for new homes in Southport NC. There is a wide array of amenities to choose from including four signature golf clubs, state-of-the-art fitness facilities, a private beach, marina and shopping. The waterfront community offers a wide range of custom homes in varying prices and styles in one of the best coastal towns in North Carolina. If living near reliable medical care is important to you, here's home choices at St. James.
Take a peek at St. James Plantation homes
With winter events like the Wilmington Wine and Chocolate Festival (Jan 29-31) and the Annual North Carolina Jazz Festival (Feb 4-6), Real Estate Scorecard believes this is a fun time to explore relocating to Southport.
About Real Estate Scorecard:
Real Estate Scorecard writes unbiased real estate reviews providing in-depth information about popular gated communities in Florida, Georgia, the Carolinas, Tennessee and Central America, all in an effort to help people discover where to retire in the South.
Website: http://realestatescorecard.com