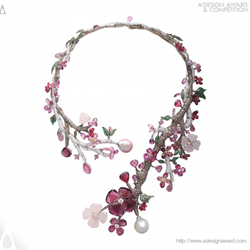 Como, Italy (PRWEB) January 07, 2016
The International A' Design Award and Competition is pleased to announce that the necklace design project Sakura by Nada Khamis Mohammed Al-Sulaiti has been highlighted and recognized as a winner of a Golden A' Design Award in Jewelry Design Category.
Insights on Sakura
Nada Khamis Mohammed Al-Sulaiti, the creative mind behind the award winning Jewelry work Sakura said "The Necklace is very flexible and made from different pieces soldered seamlessly together to cascade beautifully on the women's neck area. The center flowers rotate and the there is an allowance for to use the left shorter piece of the necklace separately as a brooch The necklace is very light given the 3D shape and complexity of the piece. The gross weight for it is 362.50 grams made is 18 karat, with 518.75 carats of stone and diamonds " To learn more visit: https://competition.adesignaward.com/design.php?ID=39654
The Golden A' Design Award
The Golden A' Design Award is a prestigious award given to top 3% percentile designs that has attained an exemplary level of perfection in design. Entries to the A' Jewelry Design Award are evaluated by an expert jury panel of press members, design professionals as well as academics following sting evaluation criteria and anonymous voting process. Laureates of the Jewelry Design Award are eligible to receive the A' Design Prize which includes a series of PR and publicity services to celebrate the status of winning the accolades. Award winners are able to access and make use of design services and platforms such as Buy Sell Design, Design Mega Store, Salone del Designer, as well as get coverage through extensive press partners and IDNN International Design News Network. Award winning designers are also invited to join the award ceremony in Italy to collect their certificates, yearbooks and trophies as well as to visit the exhibition.
About A' Design Award and Competition
A' Design Award and Competition is a philanthropic initiative that aims to create a better world by pushing designers, artists, engineers, architects, brands, companies and product manufacturers worldwide to design superior products and projects that benefit society. The A' Design Competition furthermore aims to create a global awareness for good design practices and principles, and aims to increase the demand for good design products and services. Entries to the competition are accepted in all disciplines and from all countries. Learn more about the A' Design Competition at http://www.designaward.com