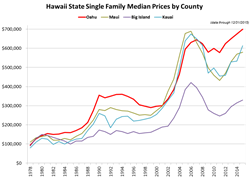 "We expect Oahu sales prices to hit another record this year and anticipate that neighbor island markets will continue to recover." Scott Higashi, executive vice president, Locations.
Honolulu, Hawaii (PRWEB) January 06, 2016
NOTE: Click here to download corresponding graphs.
The Locations Research Department today announced the release of its 2015 year-end recap and 2016 forecast – sharing expert insight into the Hawaii real estate market. Throughout the year, Locations Research Department tracks sales activity for more than 350 Hawaii neighborhoods – this comprehensive outlook is a culmination of these efforts, unearthing insights about market conditions, housing trends and key economic indicators that have helped to create today's unique real estate market.
"In short – the outlook for 2016 is very healthy for Hawaii real estate," said Scott Higashi, executive vice president, Locations. "We expect Oahu sales prices to hit another record this year and anticipate that neighbor island markets will continue to recover."
Real estate analysts from Locations conclude that the Oahu market will continue to be driven by the combination of low inventory and low interest rates, both which are creating an environment of pricing pressures. Inventory near record lows, with demand exceeding current supply levels, equals competition for properties, causing bid-ups, when a home sells more than its asking price, usually in a competitive bidding situation – one of the key reasons for record median prices.
Statewide Hawaii Trends
The year 2015 marked the fourth consecutive year of price appreciation statewide, with Oahu reaching record levels for single family home and condominium median sales prices. The neighbor island markets are recovering, with prices about halfway between 2006 highs and 2011 lows. Oahu prices experienced more stability during the last downturn, positioning the market for the current record highs supported by continued low interest rates.
Oahu Annual Trends
The Oahu market remains strong, seeing the highest median prices in history – $700,000 for single family homes and $361,000 for condominiums. Bid-ups, the mechanism that pushes median prices up, were at near-record levels and have continued to rise over the past several years.
Consistent with the statewide trend, 2015 marked the fourth consecutive year of price appreciation. Additionally, the number of sales on Oahu exceeded 2014 in both single family home and condominium resales, continuing a trend that started in 2011 for single family homes and 2009 for condominiums.
Inventory and Sales Activity by Price Range
Inventory levels for properties at or below the median sales price for single family homes and condominiums were generally lower than 2014, which contributed to faster selling times and continued bid-ups by buyers to secure a home.
Inventory levels for properties priced at more than $1 million in the single family market and over $500,000 in the condominium market ended noticeably higher than last year. Single family home sales more than $1 million were up 14 percent, driven primarily by increased activity in the $1 to $2 million price range. Condo sales in the over $500,000 price range saw a more modest 6 percent increase in sales.
Sales activity is also shifting into higher price ranges, another sign of increasing prices. Overall, the number of sales increased for both single family and condominiums, but we saw the largest percent increase in specific price bands. Active listings are increasing in all price ranges above the current median sales price, for both single family homes and condominiums.
Market Areas and Neighborhoods
The top three market areas in sales price appreciation in 2015 were Hawaii Kai, North Shore and Manoa – all on the island of Oahu. Hawaii Kai home prices appreciated 16 percent after being flat the year before; the median price is now $1,125,000 – the first time it has been more than $1 million. Oahu's North Shore home prices appreciated by 11 percent and have had steady appreciation over the last four years. The Manoa neighborhood appreciated by nine percent after being flat the year before; its median home price has been over $1 million for the past three years.
Locations 2016 Real Estate Forecast
For 2016 the Locations Research Department forecasts a five percent increase in both the number of sales and median price for the overall Oahu residential market. Locations' analysts expect steady growth in sales and price appreciation consistent with the past four years, although each market area and neighborhood will behave differently depending on inventory and demand. The Oahu residential market's continued near-record levels of strong demand indicators such as Days-On-Market and bid-up percentages, should push prices and sales up. This is tempered by the constraints of low inventory, reduced affordability as prices rise, and economic concerns such as rising interest rates.
Interest rate increases are the main headwind to watch, which will have a direct impact on affordability and borrowing power. As long as the Fed continues with its planned policy of cautious, gradual rate increases, the corresponding modest rises in mortgage rates should not have a major negative impact on the Oahu real estate market in 2016.
For up-to-date Hawaii real estate updates, follow Locations on Facebook at http://www.facebook.com/LocationsHawaii, Twitter at @LocationsHI, Instagram at @LocationsHawaii, Pinterest at http://www.pinterest.com/locationshawaii/ and LinkedIn at http://www.linkedin.com/company/locations-hawaii. Read the Locations blog at: http://www.LocationsHawaii.com.
About Locations
Established in 1969, Locations LLC is Hawaii's number 1 real estate company. With its rich kama'aina roots, cutting-edge technology and dedicated market-research department, the company has secured a foothold at the forefront of this ever‐changing industry for more than 45 years. Locations has nearly 300 agents that set the benchmark for sales in Hawaii – garnering the highest number of real estate transactions, and more than $1 billion sales just last year alone. The mission of Locations is to give customers a clear advantage in the market by serving the ever changing needs of real estate buyers and sellers. The firm was founded by president and CEO Bill Chee, a former president of the National Association of Realtors, the Honolulu Board of Realtors, and the Hawaii Association of Realtors and the recipient of a lifetime achievement award in real estate from Hawaii Business Magazine. Providing Hawaii's most comprehensive real estate website and mobile applications, Locations was voted First Place 'Best Real Estate Firm' the last five years in a row by the people of Hawaii. Through its non-profit-arm, The Locations Foundation, Locations agents and staff members support 105 Hawaii non-profit organizations both through monetary donations and through Locations Foundation volunteers organizing and staffing events. Visit http://www.LocationsHawaii.com today to learn more.